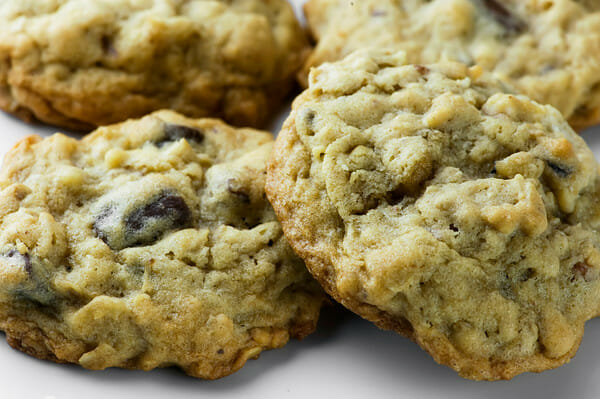 ¾ cup walnuts
2 cups all-purpose flour
1 teaspoon baking soda
1 teaspoon salt
½ teaspoon baking powder
1 cup (2 sticks) unsalted butter, softened
¾ cup granulated sugar
¾ cup packed light-brown sugar
2 large eggs
1 teaspoon pure vanilla extract
1½ cups old-fashioned oats (not instant or quick-cooking)
6 ounces semisweet chocolate chunks
½ cup shredded unsweetened coconut
Preheat oven to 350 degrees. Spread walnuts in a single layer on a rimmed baking sheet. Toast in oven, tossing occasionally, until darkened and fragrant, 10 to 13 minutes. Let cool, then coarsely chop. Into a bowl, sift together flour, baking soda, salt, and baking powder.
With an electric mixer on medium-high speed, cream butter and both sugars until pale and fluffy. Reduce speed to medium. Add eggs, one at a time, beating well after each addition. Beat in vanilla.
With mixer on low speed, gradually add flour mixture, beating until just incorporated. Beat in oats, chocolate, pecans, and coconut until just combined.
Coat baking sheets with cooking spray; line with parchment, and spray parchment or use a Silpat. Using a 1½-inch ice-cream scoop or a tablespoon, drop dough onto prepared sheets, about 3 inches apart.
Bake, rotating sheets halfway through, until edges of cookies begin to brown, 16 to 18 minutes. Transfer sheets to wire racks to cool 5 minutes. Transfer cookies to racks to cool completely.