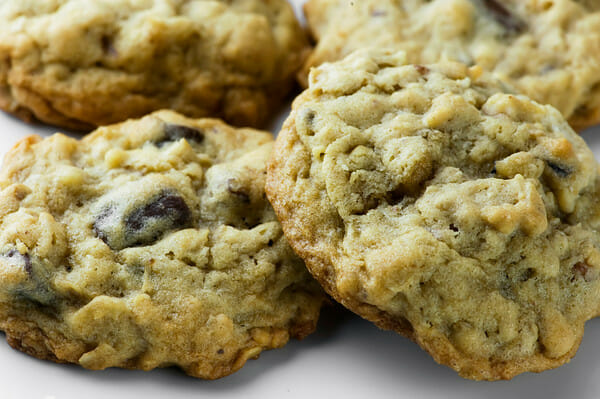 I'm not exactly sure why these are called cowboy cookies. Maybe because they are hearty, robust cookies, with a mix of oatmeal and coconut and chocolate chips and walnuts? No nonsense, crunchy, chewy cookies with nothing fragile or delicate about them? I really have no idea. If I knew any cowboys I would ask them. The closest I ever come to a cowboy is when the Southern husband wears his cowboy boots.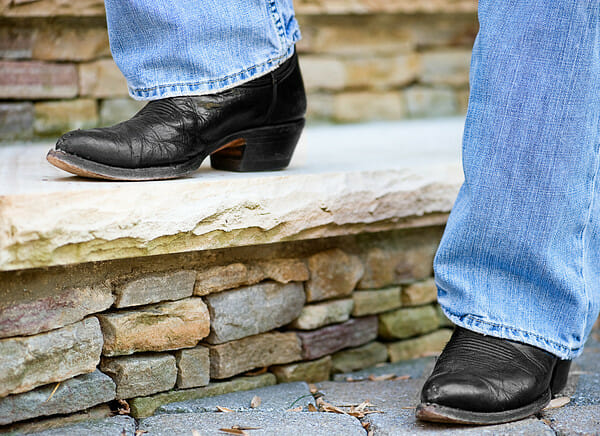 I do love it when he wears those boots…
Where was I?
Oh yes, the cowboy cookies. I made these mainly because I loved the name of them, but as it turned out, I love the actual cookie just as much. These are a perfect marriage of oatmeal walnut cookies and your classic chocolate chip with some coconut thrown in, so every bite is filled with something good. The recipe comes from Martha Stewart, and hers called for pecans, but walnuts were what I had in my pantry so walnuts is what I made 'em with. Feel free to swap back to pecans if you are a pecan sort of person.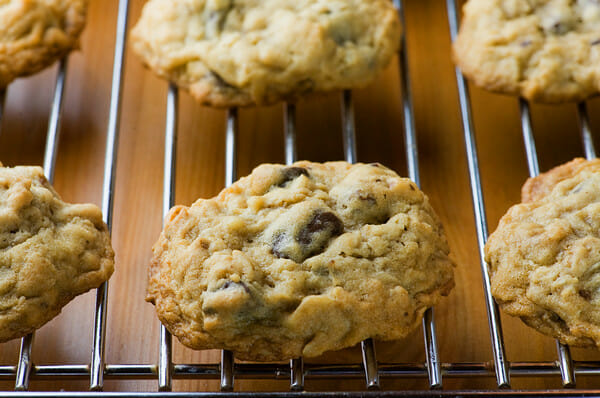 Can't you just picture them cooling on your kitchen table? Cowboy Cookies…go make them!
COWBOY COOKIES, adapted from Martha Stewart 
Print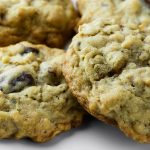 Cowboy Cookies
---
Ingredients
3/4 cup walnuts
2 cups all-purpose flour
1 teaspoon baking soda
1 teaspoon salt
1/2 teaspoon baking powder
1 cup (2 sticks) unsalted butter, softened
3/4 cup granulated sugar
3/4 cup packed light-brown sugar
2 large eggs
1 teaspoon pure vanilla extract
1 1/2 cups old-fashioned oats (not instant or quick-cooking)
6 ounces semisweet chocolate chunks
1/2 cup shredded unsweetened coconut
---
Instructions
Preheat oven to 350 degrees. Spread walnuts in a single layer on a rimmed baking sheet. Toast in oven, tossing occasionally, until darkened and fragrant, 10 to 13 minutes. Let cool, then coarsely chop. Into a bowl, sift together flour, baking soda, salt, and baking powder.
With an electric mixer on medium-high speed, cream butter and both sugars until pale and fluffy. Reduce speed to medium. Add eggs, one at a time, beating well after each addition. Beat in vanilla.
With mixer on low speed, gradually add flour mixture, beating until just incorporated. Beat in oats, chocolate, pecans, and coconut until just combined.
Coat baking sheets with cooking spray; line with parchment, and spray parchment or use a Silpat. Using a 1 1/2-inch ice-cream scoop or a tablespoon, drop dough onto prepared sheets, about 3 inches apart.
Bake, rotating sheets halfway through, until edges of cookies begin to brown, 16 to 18 minutes. Transfer sheets to wire racks to cool 5 minutes. Transfer cookies to racks to cool completely.