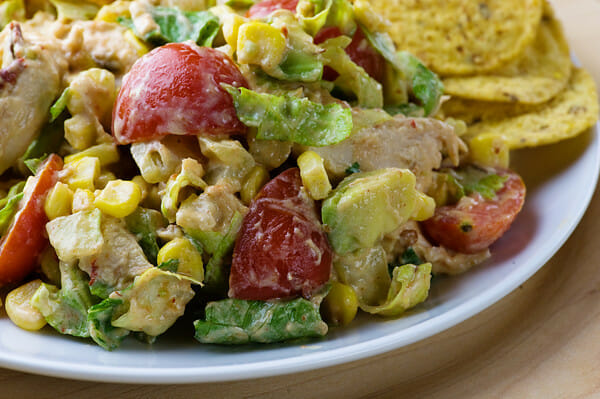 I love this salad. It's right up there for me with my favorite taco salad — one of those "chop up a bunch of those things that you like, toss them all together and voila! a scrumptious dinner" type of recipes. I will be perfectly honest and say that the original recipe for this dish, which I found in my new favorite Cooking Light cookbook, called for black beans, and if you like black beans you should feel perfectly free to throw them on in there. But in my house, I am sorry to tell you that black beans are the enemy, along with: mushrooms, eggplant, lima beans and cilantro. I wish I could like all that stuff, and so does my mother, who keeps getting me to "just try them." But I have, and I don't, and I gotta be me.
But everything else in this recipe was A-okay with me — chicken, corn, tomato, avocado, lettuce, all tossed with a spicy sour cream dressing and served with some nice tortilla chips on the side. Which leads me to ask you about one of the great searches of my life: the quest for the perfect tortilla chip. I am looking for suggestions, folks…I still haven't landed on a brand that makes me stop and sing. So if you have, please share in the comments section? And in the meantime, here is my black-bean-less version of this nifty chicken salad. Yum.

Print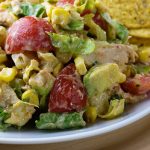 Chipolte Chicken Salad
---
Ingredients
Dressing
2/3 cup sour cream
4 teaspoons lime juice
2 tablespoons minced chipolte chile in adobo sauce
1 teaspoon cumin
1 teaspoon chili powder
1/4 teaspoon salt
Salad
4 cups shredded romaine lettuce
2 cups cooked shredded chicken breast
1 cup halved cherry tomatoes
1 peeled and diced avocado
1/3 cup sliced red onion
1 cup corn
---
Instructions
Combine all dressing ingredients and mix well.
Combine all salad ingredients and toss. Drizzle dressing over salad and toss again. Serve with your favorite tortilla chips…whatever they are.