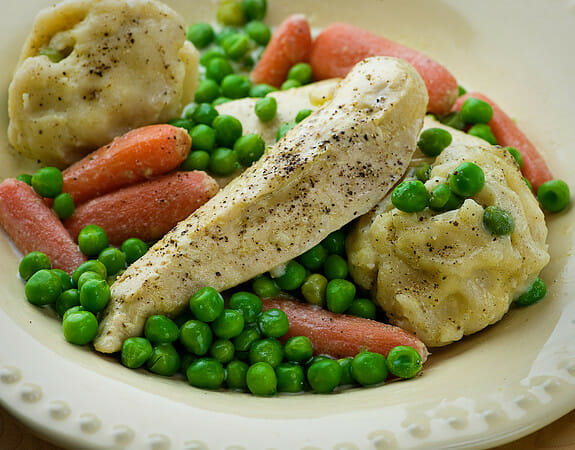 3 cups chicken stock
1 pound chicken tenders (or boneless chicken breasts cut into strips)
I cup baby carrots
1 cup thawed baby peas
1 tsp poultry seasoning
1 cup heavy cream
2 cups Bisquick
⅔ cup milk
1. Bring stock to simmer in large saucepan. Add chicken and carrots and cook for 12 minutes or until carrots are cooked through. Remove chicken and carrots and put on plate to cool.
2. Boil stock until reduced by half.
3. Boil cream in small saucepan until reduce by half. Whisk into chicken stock, season with salt and pepper and add poultry seasoning.
4. Add chicken, carrots and peas to sauce and bring to simmer.
5. Combine Bisquick and milk in mixing bowl and stir until combined. Dough will be very sticky.
6. Drop golf ball sized pieces of dumpling dough into sauce. Cover tightly and simmer for 10 minutes. Do not peek!!
7. Divide among 4 plates, spooning sauce over top and topping with ground pepper if you like.