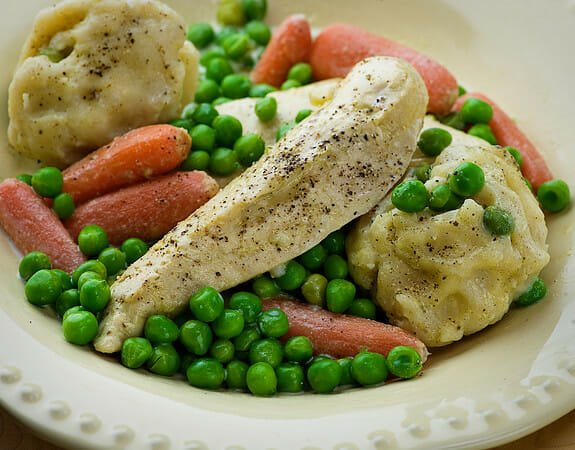 Okay, ready for the next cookbook giveaway? It's all about dumplings, people. And I have to admit that when I hear the word "dumpling" the first thing I think of is my adorable nephew. Here he is, with visions of sugarplums dancing in his sweet little head. Now I ask you, is he a dumpling or what?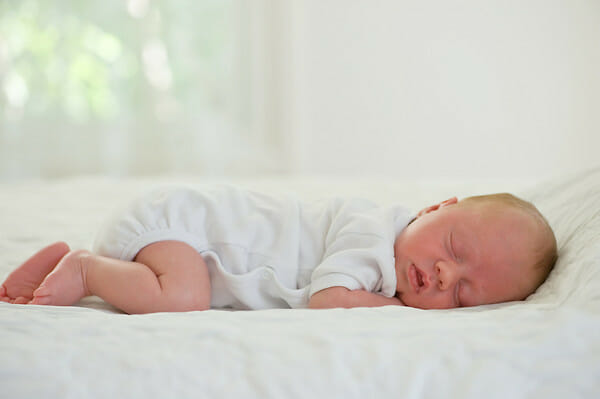 But the second thing I think of is my favorite, well-worn recipe for chicken and dumplings. It is one of those recipes that has been pieced together from various and sundry recipes over the years, and now it is perfect. If I do say so myself. It features one of my favorite ingredients, and that is Bisquick. You can make pretty much anything out of Bisquick: pancakes, waffles, biscuits…and fabulous, easy dumplings. There is actually a whole blog devoted to all the stuff you can make out of Bisquick. I'm guessing it is run by the Bisquick people — what do you think?
Anyway. This chicken and dumplings is easy as easy can be. It uses chicken tenders (and if you can't find them, just cut up regular chicken breasts into 3 inch x 1 inch strips, that will work just fine) and carrots cooked in chicken broth that is mixed with cream and poultry seasoning. Toss in some peas, add the dumpling dough and voila! the ultimate comfort food. Now the secret to fool-proof dumplings? Cover the pot as soon as you drop the dough into the liquid and DO…NOT…OPEN IT. No peeking. Have faith in those dumplings…they are cooking just fine in there without you.
Once you have mastered this easy recipe…which will take you all of one time making it…you are ready to graduate to advanced dumpling-making, and boy do I have the book for you.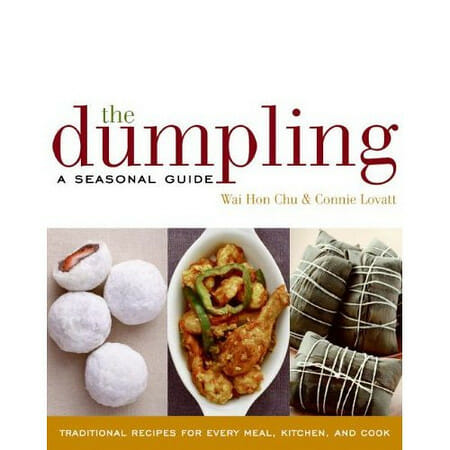 I actually have THREE of these fabulous cookbooks to give away! There are over 135 dumpling recipes in this book, my friends…it almost boggles the mind. Savory ones, sweet ones, and lots of recipes to make them with and around.
So if you are a dumpling fanatic like me, leave me a comment on this post telling me what YOUR favorite comfort food is, and you will be automatically entered in a random drawing for one of the three copies of THE DUMPLING: A SEASONAL GUIDE. You know you want it. (For my peeps who subscribe on email — click on the recipe title up top and it will take you to the web page where you can comment. I love you guys!!) I will announce the lucky winners on Saturday, December 12 at 7pm.
Okay…recipe below, and don't forget to comment…you can't win if you don't play!
EASY CHICKEN WITH DUMPLINGS
Print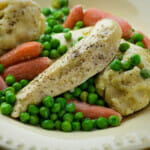 Chicken with Dumplings and a Cookbook Contest!
---
Ingredients
3 cups chicken stock
1 pound chicken tenders (or boneless chicken breasts cut into strips)
I cup baby carrots
1 cup thawed baby peas
1 tsp poultry seasoning
1 cup heavy cream
2 cups Bisquick
2/3 cup milk
---
Instructions
Bring stock to simmer in large saucepan. Add chicken and carrots and cook for 12 minutes or until carrots are cooked through. Remove chicken and carrots and put on plate to cool.
Boil stock until reduced by half.
Boil cream in small saucepan until reduce by half. Whisk into chicken stock, season with salt and pepper and add poultry seasoning.
Add chicken, carrots and peas to sauce and bring to simmer.
Combine Bisquick and milk in mixing bowl and stir until combined. Dough will be very sticky.
Drop golf ball sized pieces of dumpling dough into sauce. Cover tightly and simmer for 10 minutes. Do not peek!!
Divide among 4 plates, spooning sauce over top and topping with ground pepper if you like.