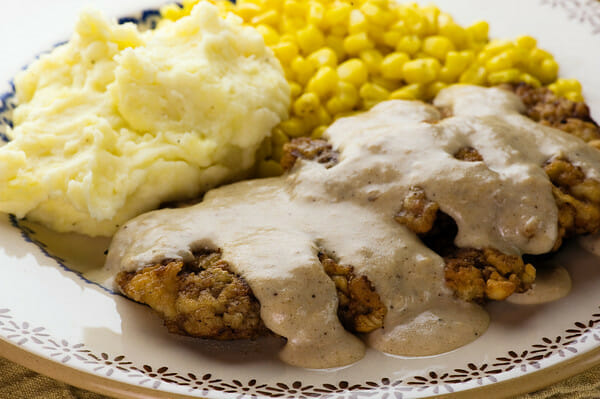 Now, I need to tell you a little story about this one. It is called "The Chicken Fried Steak Rule," and it dates back to the beginning of time, before the teenager was even born, and it goes like this.
Once upon a time, there was a Northern girl and a Southern guy, and the Southern guy introduced the Northern girl to the culinary delicacy that is Chicken Fried Steak. He found a great restaurant right nearby that did a scrumptious chicken fried steak with cream gravy and mashed potatoes, and he held her hand across the table and promised his undying love in that mesmerizing Southern accent of his.
The Northern girl girl was smitten with both the Southern guy AND the chicken fried steak, and decided to make both her own. The Southern guy proved to be a lot easier to figure out than the chicken fried steak. She tried recipe after recipe after recipe for chicken fried steak, with no luck. The breading fell off, or burned. The steak was tough. The cream gravy was lumpy, or runny, or bland. The Southern guy bravely ate his way through one disappointing chicken fried steak dinner after another.
Then one day he got down on one knee, took her hands in his, professed his undying love, and reminded her that there was a perfectly wonderful restaurant nearby that served perfectly wonderful chicken fried steak. And thus the Chicken Fried Steak Rule was born, and it goes like this. If there is someplace nearby that makes something wonderful that you like to eat, do not try to reinvent the wheel at home. For the past 20 years, this has saved me from trying to make chicken fried steak (Live Bait restaurant on 23rd street in NYC), doughnuts (Krispy Kreme!) and cinnamon rolls (Grandma). And life was good and peaceful, because whenever I got a jones to make chicken fried steak either the Southern husband or the teenager looked me in the eye and said "Chicken Fried Steak Rule," and I came back to my senses.
Then the Pioneer Woman wrote her fabulous cookbook, and there it was. On page 142. Her recipe for chicken fried steak, complete with irresistable step by step photos. I wavered. I faltered. I fell. There I was, with my cube steak and flour and eggs and milk, flagrantly breaking the Chicken Fried Steak Rule for the first time in years. And you know what? Rules are meant to be broken…this was the chicken fried steak of my dreams, right here in my own little kitchen!
Anybody out there got any Krispy Kreme doughnut recipes???
CHICKEN FRIED STEAK, adapted from The Pioneer Woman Cooks!
Print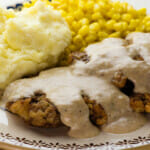 Chicken Fried Steak
---
Ingredients
3 pounds sliced cube steak
2 large eggs
3 1/2 cups milk
3 1/3 cups flour
2 teaspoons salt
3/4 teaspoons paprika
1/4 teaspoon red pepper
1 1/2 teaspoons black pepper
3 teaspoons salt
1/2 cup canola oil
yum yum.
---
Instructions
Beat the eggs with one cup of milk and place in shallow dish
Mix 3 cups flour with 2 teaspoons salt, paprika, cayenne and black pepper, place in shallow dish
Season the meat with salt and pepper. Dip in flour, then eggs, then back in flour, coating thoroughly each time. Place on empty plate until ready to cook.
Heat the oil in a large skillet over medium high heat. Fry meat 3 pieces at a time until golden, about 2-3 minutes on each side. Remove to paper towel lined plate and keep warm.
After frying all the meat, pour out all grease except for 1/4 cup and heat up the grease. Sprinkle 1/3 cup flour over the grease and whisk it together.
After a couple of minutes the flour mixture will turn brown. Whisking constantly, pour in 2 cups of milk. Let gravy come to slow boil to thicken. Add more milk as needed if it gets too thick. This should take 5-10 minutes.
Generously season with salt and pepper.
Place meat on plate and spoon gravy over. Serve with mashed potatoes and whatever other veggie you like. I serve with corn to make sure we really DO get enough carbs. Yum