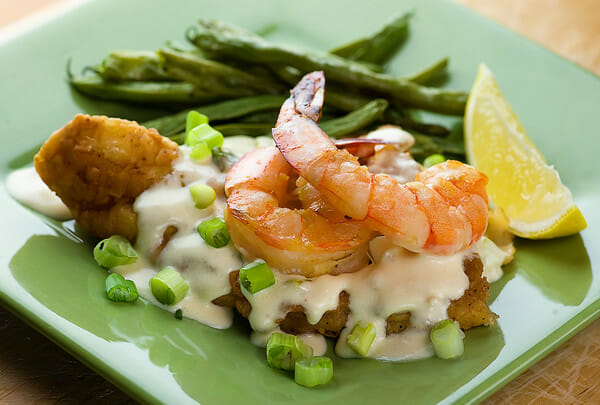 1 large egg
½ cup milk
1½ cups flour
1¼ teaspoons salt
2½ teaspoons ground red pepper
4 6 ounce catfish filets
Vegetable oil
12 large fresh shrimp, peeled and deveined
1 tablespoon butter
2 teaspoons chopped garlic
¼ cup vermouth
2 cups whipping cream
¼ cup chopped scallions
2 teaspoons lemon juice
Lemon wedges
1. Combine egg and milk in shallow dish until blended.
2. Combine flour, one teaspoon salt and one teaspoon red pepper in another shallow dish.
3. Dredge catfish in flour, then milk mixture, then flour again.
4. Pour two inches of oil into dutch oven or deep frying pan and heat to 375. Fry filets, two at a time, for six minutes or until golden. Drain on paper towels and keep warm.
5. Melt butter in large skillet over medium heat. Add shrimp and garlic and cook for 4 minutes or until shrimp turn pink. Remove shrimp and keep warm.
6. Add vermouth to skillet, bring to a boil and cook one minute. Add cream, half of scallions, lemon juice, remaining salt and pepper and cook sauce 15 minutes or until thickened a little, stirring often.
7. Place catfish on plates, drizzle with sauce. Top with shrimp and sprinkle with remaining scallions. Garnish with lemon wedges and serve. Meow.