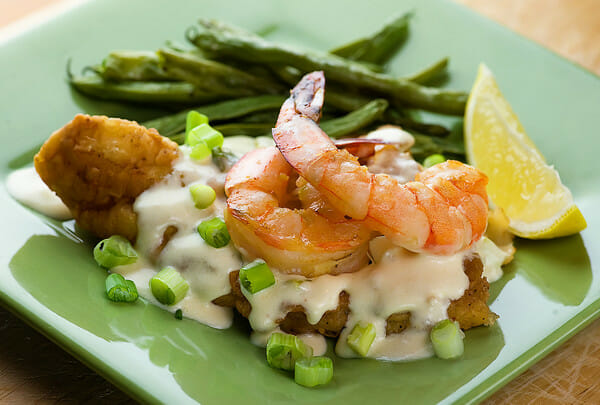 When you are married to a Southern man, catfish is one of those things that are inevitable in life. Personally I was a little afraid of catfish. I had this visual image in my head of a giant fish with whiskers, and for all I know, that is actually what catfish DO look like before they make it to the seafood counter at the supermarket. Or maybe they look like this.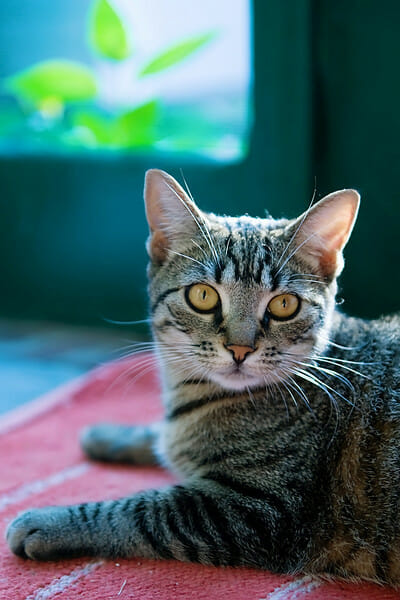 Only with fins. One way or the other, I procrastinated as long as possible. And then one day I ran across this recipe, which involved both shrimp and vermouth cream sauce, along with some deep-frying, and I figured it was now or never. So off I went to Fairway, where catfish was on sale (yes!!) and picked some up. It looked like, well, fish. This recipe calls for coating the catfish in a milk/egg/flour batter and frying it until it is golden and beautiful. Then you quickly saute some nice big shrimp in garlic and butter, and finish up by whisking some vermouth, lemon juice and cream into the shrimp drippings until you have a gorgeous thick sauce. A little red pepper for some zing, and then you are ready to assemble. Catfish, topped with shrimp, topped with sauce, topped with some chopped scallions. I put some roasted string beans on the side, invited the grandparents for dinner and it was catfish time.
Guess what?
Here is how I felt after taking just one bite.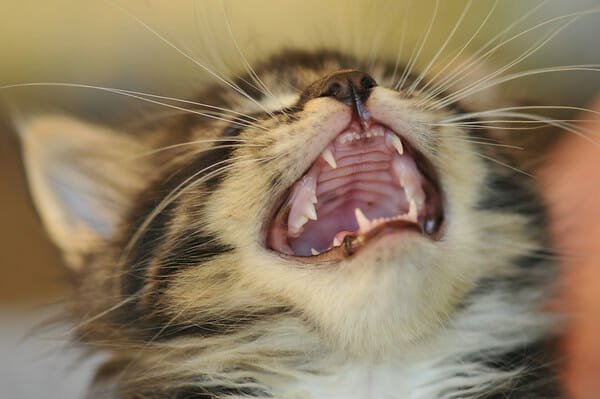 I guess you can teach an old dog new tricks. Or an old cat. Or something. Or maybe the moral of the story is, cream sauce and deep-frying making everything right with the world. One way or the other, I'll be making this one again…give it a try. In the meantime, Happy New Year to all of you, and I'll be back next year. See you then!
CATFISH CLASSIQUE, from Southern Living Homestyle Cooking 
Print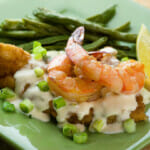 Catfish Classique!
---
Ingredients
1 large egg
1/2 cup milk
1 1/2 cups flour
1 1/4 teaspoons salt
2 1/2 teaspoons ground red pepper
4 6 ounce catfish filets
Vegetable oil
12 large fresh shrimp, peeled and deveined
1 tablespoon butter
2 teaspoons chopped garlic
1/4 cup vermouth
2 cups whipping cream
1/4 cup chopped scallions
2 teaspoons lemon juice
Lemon wedges
---
Instructions
Combine egg and milk in shallow dish until blended.
Combine flour, one teaspoon salt and one teaspoon red pepper in another shallow dish.
Dredge catfish in flour, then milk mixture, then flour again.
Pour two inches of oil into dutch oven or deep frying pan and heat to 37Fry filets, two at a time, for six minutes or until golden. Drain on paper towels and keep warm.
Melt butter in large skillet over medium heat. Add shrimp and garlic and cook for 4 minutes or until shrimp turn pink. Remove shrimp and keep warm.
Add vermouth to skillet, bring to a boil and cook one minute. Add cream, half of scallions, lemon juice, remaining salt and pepper and cook sauce 15 minutes or until thickened a little, stirring often.
Place catfish on plates, drizzle with sauce. Top with shrimp and sprinkle with remaining scallions. Garnish with lemon wedges and serve. Meow.