Best Slow Cooker Bolognese Sauce Ever!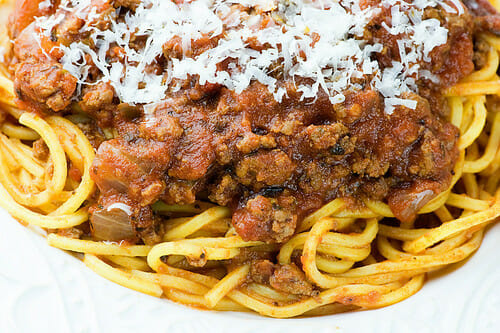 2 pounds ground beef
1 medium onion, chopped
8 cloves garlic, minced
3 14 oz cans chopped tomatoes, drained
2 15 oz cans tomato sauce
2 6 oz cans tomato paste
⅓ cup sugar
2 tablespoons dried oregano
1 tablespoon dried basil
2 teaspoons dried marjoram
1 teaspoon salt
½ teaspoon pepper
Cook beef in large skillet until browned.
Drain and transfer to 5 quart slow cooker. Stir in all remaining ingredients, mix well.
Cover and cook on low for 8-10 hours.
Serve over your favorite pasta. Happy sigh.
{Please close floating ads before printing.}
---
Article printed from Framed Cooks: http://www.framedcooks.com