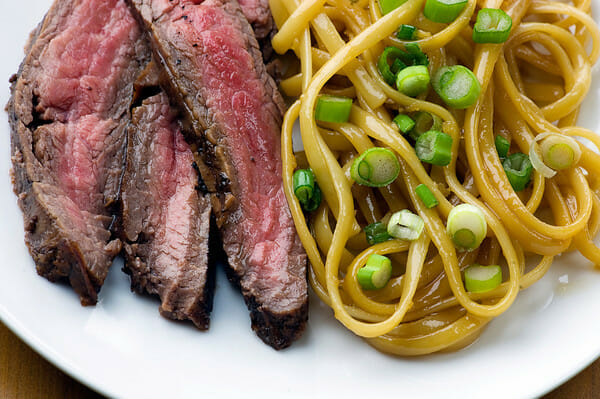 1 pound skirt steak, or steak of your choice
2 tablespoons cooking oil
1½ tablespoons unsalted butter
1 minced shallot
2 minced cloves garlic
1 cup balsamic vinegar
2 teaspoons sugar
¼ cup beef, chicken or vegetable stock
2 tablespoons soy sauce
1 tablespoon mirin (sweet rice wine)
1. To make the teriyaki sauce, melt the butter in a saucepot over medium low heat. When it starts to bubble, add the shallots and garlic and cook for 3 minutes or until soft, watching to make sure they don't burn.
2. Pour in the vinegar and bring to a boil. Turn heat down to medium low and simmer uncovered for 15 minutes or until reduced by half. It should be thick, glossy and coat the back of a spoon.
3. Add the sugar, stock, soy sauce and mirin, stir well and bring back to a boil. Then turn the heat down to low and simmer for 5 minutes. Let cool and reserve ½ cup sauce for marinating and ¼ cup for serving.
4. Place the steak and ½ cup sauce into a large sealable plastic bag. Marinate 2 hours or overnight in the refrigerator.
5. Thirty minutes before grilling, remove the steak from the fridge and let it sit at room temperature. Discard the marinade and pat the steak very dry with paper towels.
6. Preheat grill to high, or set a large frying pan over high heat on the stove and add oil when very hot.
7. Grill steak for 3-5 minutes on each side for medium rare. Let steak rest for 5 minutes and the slice across the grain. Serve with reserved ¼ cup marinade to pour over the meat.