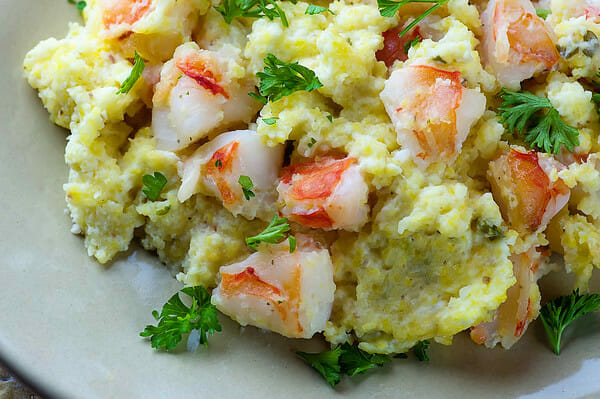 Ingredients
2 cups milk
3/4 cup chicken broth
1 cup uncooked grits
1/4 teaspoon salt
1/2 cup shredded Parmesan cheese
2 tablespoons butter
3 ounces cream cheese
3 tablespoons chopped fresh parsley
1 tablespoon lemon juice
2 large eggs, lightly beaten
1 pound shrimp, peeled and chopped into 1/2 inch pieces
Tabasco sauce
Directions
1. Preheat oven to 375
2. Combine milk and broth in saucepan and heat to boiling. Add grits to saucepan in steady stream, whisking constantly. Add salt. Stir until grits thicken. This can take anywhere from 5 to 15 minutes, depending on your grits.
3. Reduce heat and add cheeses and butter, stirring until combined and melted.
4. Stir in parsley, lemon juice, eggs and shrimp. Spoon into greased casserole dish.
5. Bake until set, about 25 minutes.
6. Serve with Tabasco sauce.
Adapted from Cooking Light [3]