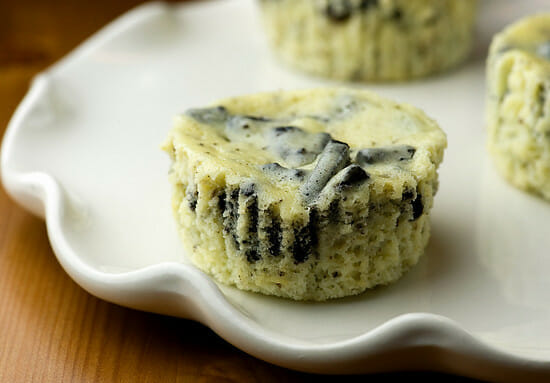 22 oreo cookies, 15 left whole and 6 coarsely chopped
½ cup of sugar
2 large eggs, lightly beaten
½ cup sour cream
1 pound cream cheese
1 tsp vanilla extract.pinch salt
1. Preheat the oven to 275˚F. Line a standard muffin tin with paper liners and put one whole cookie in each paper lining.
2. Beat the cream cheese on medium high speed until smooth. Gradually add in the sugar until well combined, then beat in the vanilla. Pour in the eggs slowly, beating to combine and scraping down the sides of the bowl. Add sour cream and salt. Stir in chopped cookies by hand.
3. Divide the batter between paper cups, filling each almost to the top. Bake for about 22 minutes or until filling is set. They will not get brown, but don't worry, they're done. Transfer to wire rack to cool completely. Refrigerate for at least 4 hours before serving.
{Please close floating ads before printing.}
---
Article printed from Framed Cooks: http://www.framedcooks.com