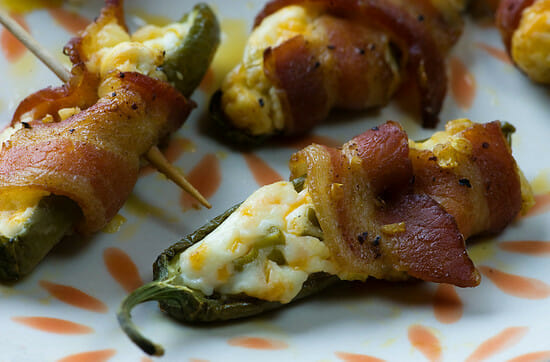 18 fresh jalapenos
1 8 ounce package cream cheese
½ cup grated cheddar cheese
1 green onion, sliced
18 slices bacon, cut in half
¼ cup bbq sauce
1. PUT ON GLOVES! (I get the box of latex surgical gloves at CVS. They are perfect for this sort of thing).
2. Cut the jalapenos in half length-wise and take out the seeds and membranes with a spoon or your gloved fingers.
3. Combine the cream cheese, cheddar and onion in a bowl until combined.
4. Stuff each jalapeno half with cheese mixture.
5. Wrap each bacon half-slice around the pepper and secure with a toothpick.
6. Brush with bbq sauce.
7. Now and only now may you remove the gloves.
8. Bake in preheated 275 oven for one hour or until bacon is cooked and sizzling
9. Can be served hot or at room temperature, if they last that long.