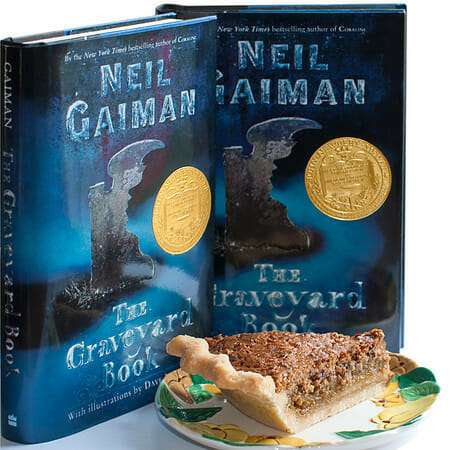 Photo by Leo Chapman

1 ½ cups unbleached all-purpose flour
1 teaspoon salt (less if you are using kosher or sea salt)
½ cup very cold shortening
¼ scant cup cold butter
¼ cup ice-cold water
¼ lb. butter
3 tablespoons flour
1 lb. light brown sugar
6 tablespoons half-and-half
3 eggs
2 teaspoons champagne vinegar
1 ½ teaspoon vanilla
1 cup chopped, toasted (4 or 5 minutes in a 350° oven) pecans
1. Combine flour and salt in a food processor with a couple of quick pulses. Handling it as little as possible, add the shortening in about eight large chunks. Pulse rapidly 5 or 6 times till the mixture appears to be fine crumbs. Add the butter, cut into several pieces, again handling as little as possible. Pulse another 5 or 6 times until the coated particles of fat are varied in size, with the largest about the size of an almond. Begin adding water in a trickle, just a couple of tablespoons at first. Pulse 2 or 3 times. If the mixture is still quite dry, add a little more water. Pulse 2 or 3 more times. When the dough begins to form a ball, stop right away.
2. Handling the dough as little as possible, using just your fingertips, shape it into a ball and flatten it on your countertop or whatever well-floured surface you will use to roll it. I like to use a cold (notice the theme?) marble pin, rolling the dough quickly and lightly with as few strokes as possible, working from the center out to the edges until the crust is about ⅛-inch thick and 13 inches in diameter for a 9-inch pie pan. (I prefer metal.) What's up with all the cold ingredients and utensils? It keeps the fat, especially if you are using butter, cool and solid as you work, so when the pie goes in the oven, the variously sized chunks melt at last, producing a flaky, tender crust. Once the piecrust is in the pan and crimped however you like (a topic for a whole other blog post), stick it in the fridge while you work on the filling.
Pre-heat oven to 325°. Melt butter, let cool. Beat eggs in a small bowl and set aside. Mix flour and sugar; add beat eggs and half and half. Beat well by hand or in a stand mixer on a medium setting. Stir in vinegar and vanilla. Add butter and nuts. Pour into a chilled, unbaked pie shell (9-inch is perfect). Bake for one hour, or until mixture is gooey and thick, but not totally solid. It's meant to be cooled before serving, but it's really good still slightly warm and custardy inside, too.