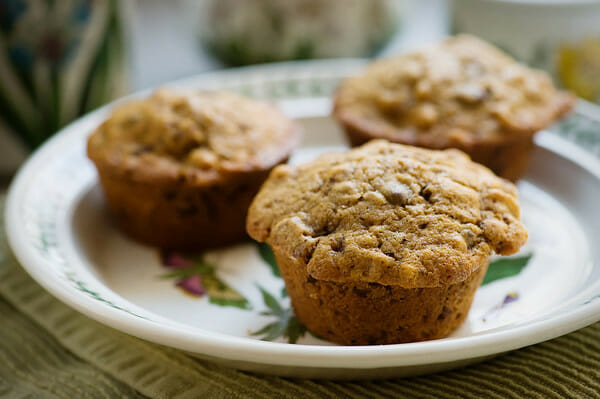 Coffee Walnut Chocolate Chip Muffins
Ingredients
1/2 cup butter
1/2 cup brown sugar
1/2 cup white sugar
3 tablespoons instant coffee
2 teaspoons vanilla extract
2 eggs
2/3 cup milk
1 3/4 cup flour
1/2 teaspoon salt
1 tablespoon baking powder
3/4 cup chocolate chips
1 1/2 cups chopped walnuts
Directions
1. Preheat oven to 350 and grease/flour a 12-muffin tin.
2. Cream butter with sugars, coffee and vanilla.
3. Beat together eggs and milk.
3. Combine flour, salt and baking powder. Alternately add the wet and dry ingredients to the butter mixture until just combined.
4. Add chips and walnuts. Divide among muffin tins, filling until almost full.
5. Bake for 20-25 minutes.
6. Cool 5 minutes and then remove from tin and cool on racks.
Recipe from The Frog Commissary Cookbook