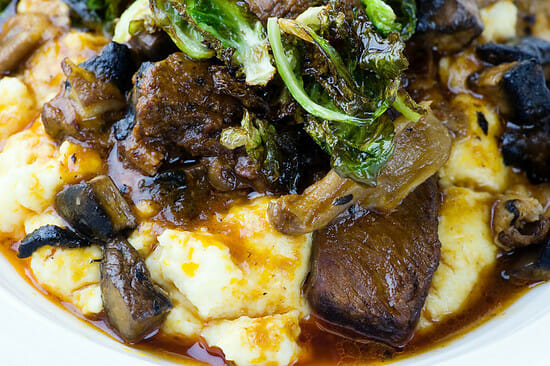 Actually, the full name of this recipe is: Braised Short Ribs of Beef with Mascarpone Polenta, Sauteed Wild Mushrooms, Crispy Brussel Sprout Leaves and Cabernet Sauvignon Sauce, and no, I have not lost my mind. Some of you may remember that I had the good luck to be invited to photograph our local library's first Meet The Chef event last summer, and I guess I did okay because they invited me back.
This time the chef was Executive Chef Adam Weiss from the wonderful Esty Streetrestaurant in Park Ridge, New Jersey. A place that has a soft spot in my heart because the romantic Southern husband and I have been known to celebrate our anniversary there. So I knew from happy experience that the food was going to be ROCKING.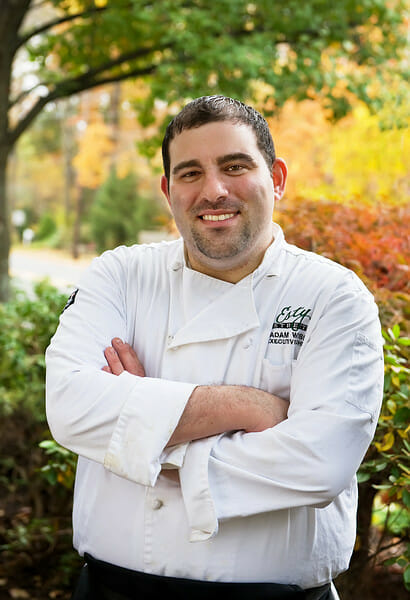 Adam is a guy who likes his work, and is not afraid of getting down into it in front of a hungry audience with a serious piece of BEEF.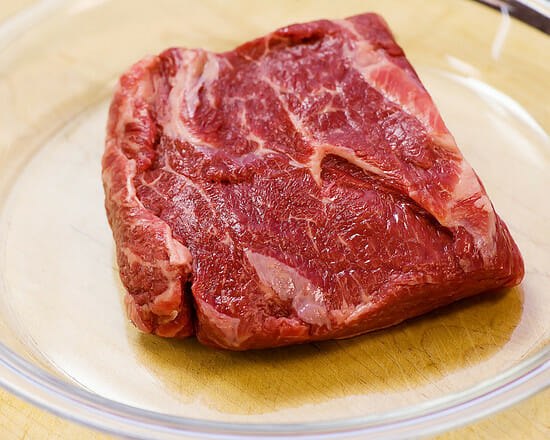 And a whole raft of other ingredients that he very neatly arranged on his workspace.
This is what us experienced chefs call "mise-en-place."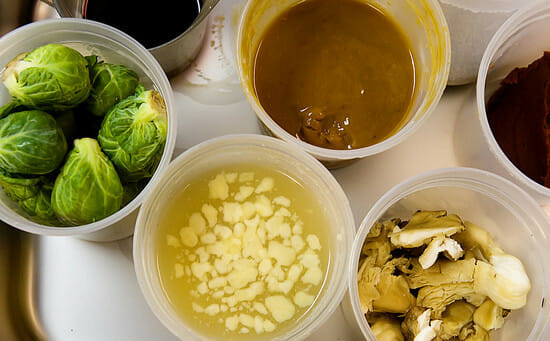 Yes, those are brussel sprouts. We'll get to those later.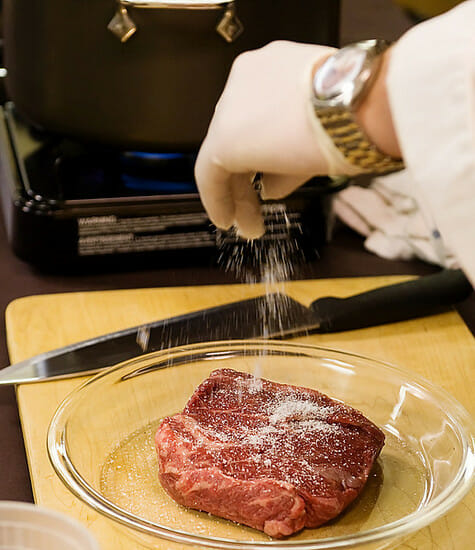 Adam started by salting the beef, and I do mean salting. Salting is one of a couple of themes that run throughout this recipe. Adam has now convinced me that enthusiastic salting is one of the roads to happiness in life. He salted that baby up and put it in a big old pan with some sizzling oil, and moved on to…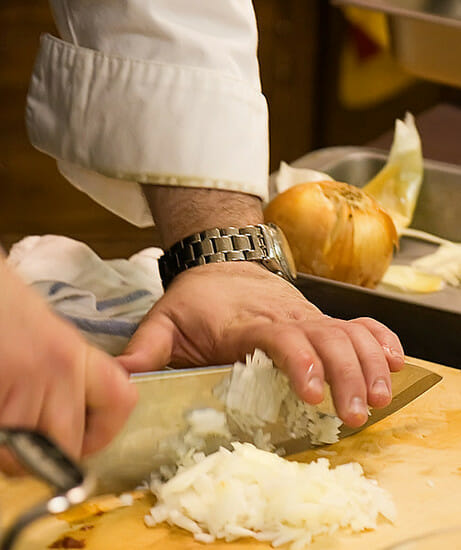 The veggies. Gorgeous big carrots and lots of onion. Which he cut up in that lightening fast dramatic onion-chopping way that I remember seeing in the movie Julie and Julia, and that I have never been able to do at home. I think it is a secret chef school trick. But I do love to watch it in action.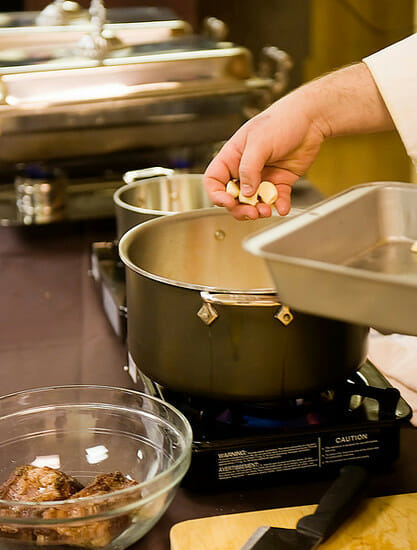 Next came garlic. Lots and lots of garlic. I love garlic ALMOST as much as I love bacon.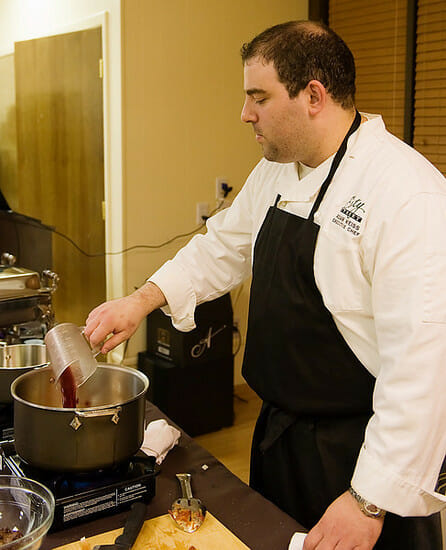 That is a bucket of Cabernet Sauvignon going in there. By now the room was smelling, um, good.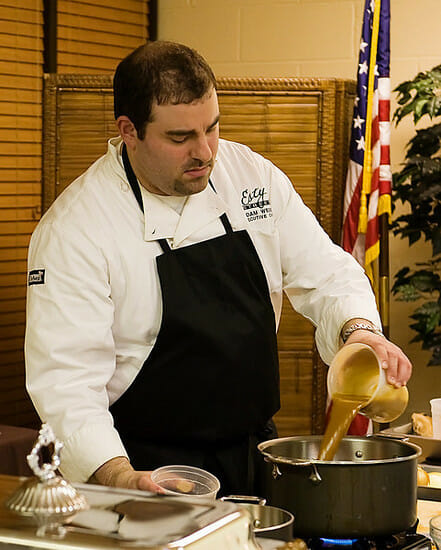 Pouring was another theme of this particular event. There was a lot of pouring. Adam was a very serious pourer. I think that is veal stock that is going in there now. At this point I was in a state of mesmerized anticipation so I am not totally sure.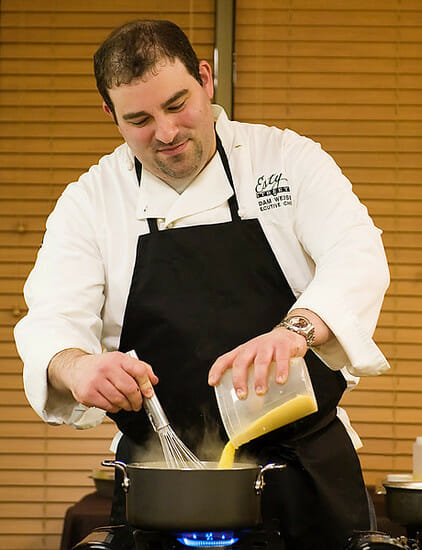 So now that the beef and the Cabernet sauce are cooking away, Adam started the mascarpone polenta. More pouring and lots of whisking.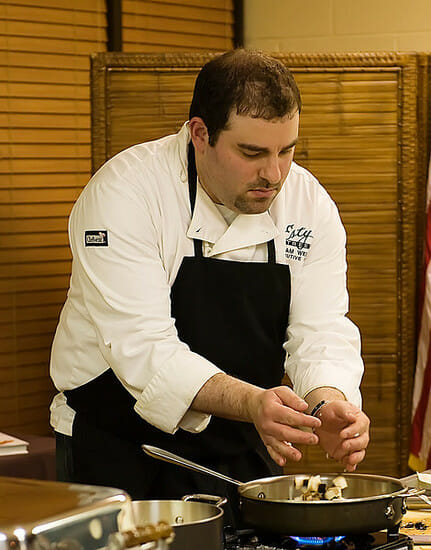 And the sauteeing of the mushrooms at the same time.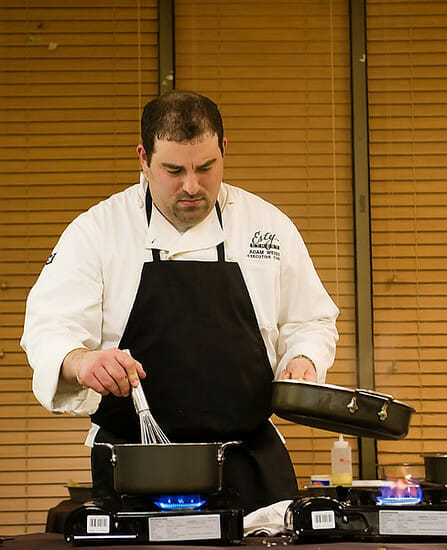 See, here is why things like this are best handled by professionals. Polenta stirring with his right hand. Mushroom-shaking with his right hand. I was getting dizzy just watching.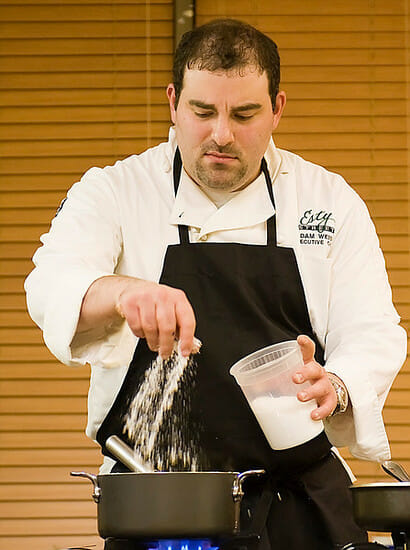 That is salt going into the polenta, baby. So at this point we are all at a state of beef and wine and polenta-induced excitement. Things are bubbling and steaming and sizzling and the room smells like heaven on earth and you can hear stomachs growling in unison all over the room. And then….
DUN-DUN-DUUUUUUUNNNNNNN…..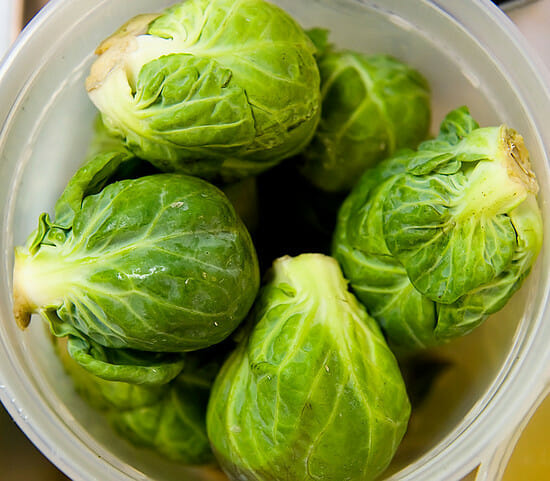 Adam goes and terrifies all of us by hauling out the brussel sprouts.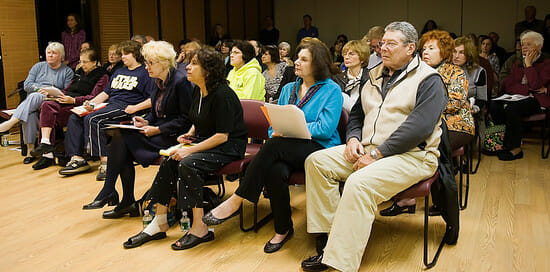 You could practically see the apprehension in the room. Why Adam, why? Why would you take your amazing, heavenly beef and wine and polenta creation and brussel sprout it? Why?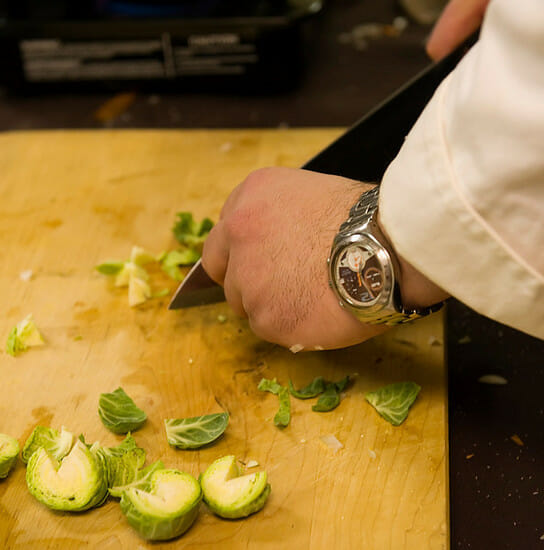 But that Adam, he is a tricky one. He talked to us in a calm and soothing voice while he cut the cores out of each of those forbidding little sprouts….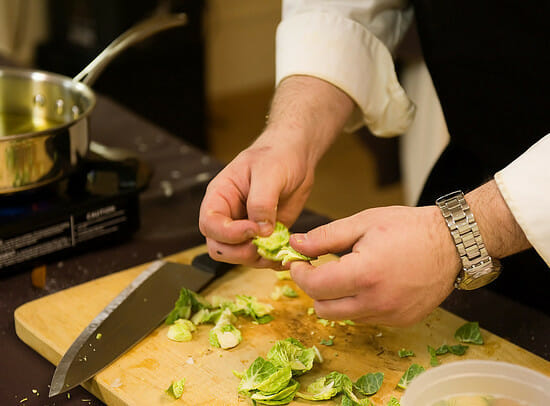 Then he separated the leaves off of each one….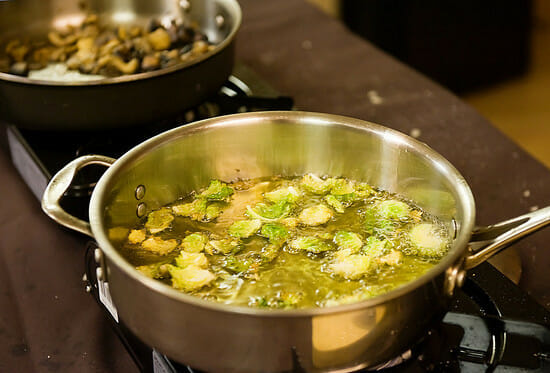 And then, my friends, he fried those little brussel sprout leaves until they were golden and crispy….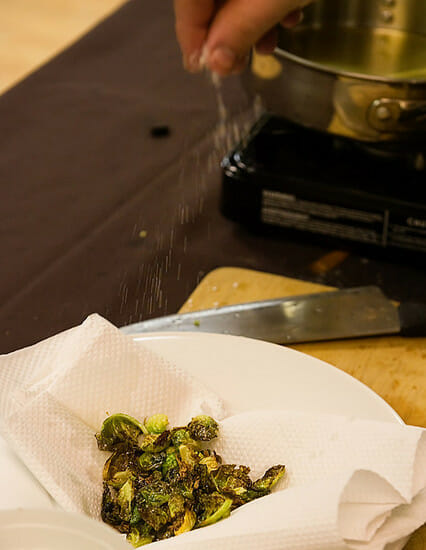 And then he drained them on a bed of paper towels. And sprinkled them with…say it with me…SALT. And lo and behold! he converted an entire room into brussel sprout fans, before my very eyes.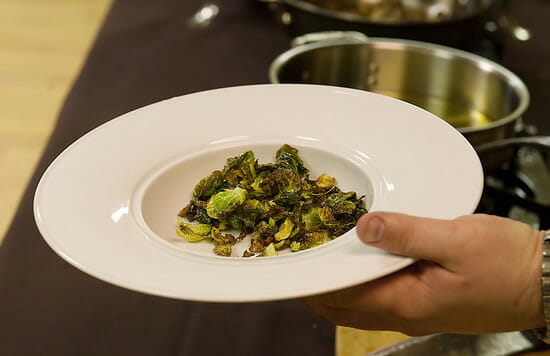 I'm still getting used to the fact that I now like brussel sprouts. I like them! I really, really like them! As long as they are peeled and fried and salted. I mean, I haven't completely lost my mind.
At this point the audience was getting ready to rush the stage. The meat was tender and succulent and burbling away in its bath of Cabernet Sauvignon and carrots and onions and mushrooms. Adam had stirred endless amounts of creamy mascarpone cheese into the polenta. I don't need to remind you that there was a heaping dish of crispy, salty brussel sprout leaves. It was time to dish it out.
A bed of polenta.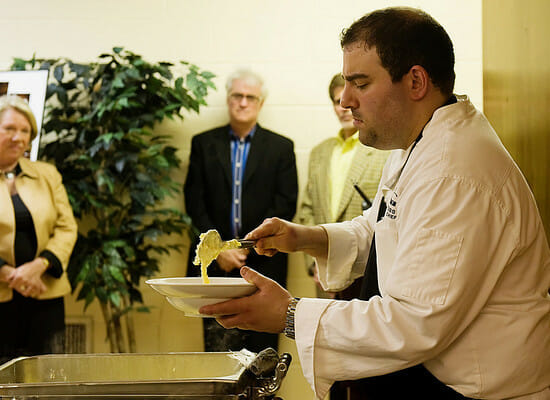 Some tender beef and vegetables…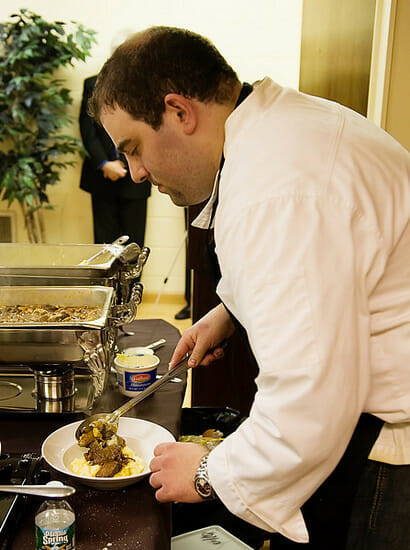 Pour some of the rich wine sauce on top….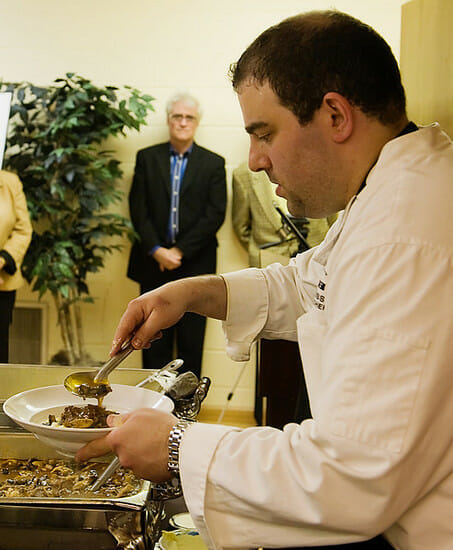 Garnish it with some brussel sprout leaves. (Can I have a few extra on mine, Adam??)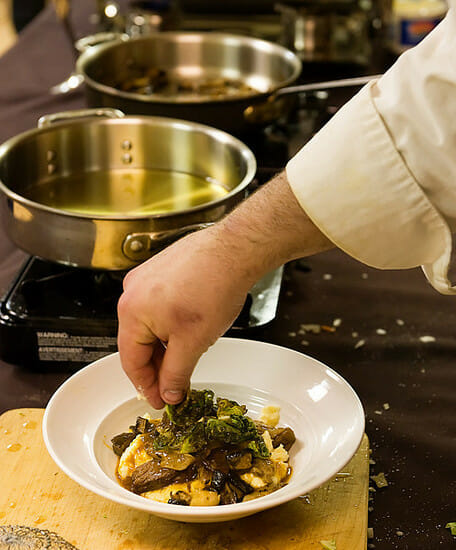 And just to make your head explode, a drizzling of truffle oil.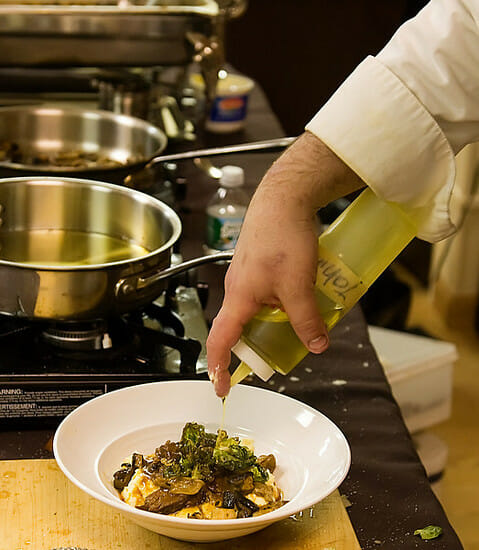 I am speechless.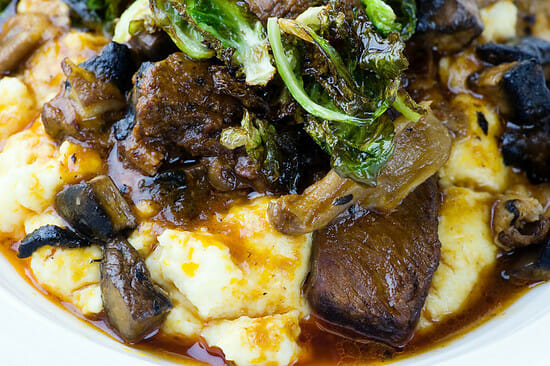 Speechless, I tell you.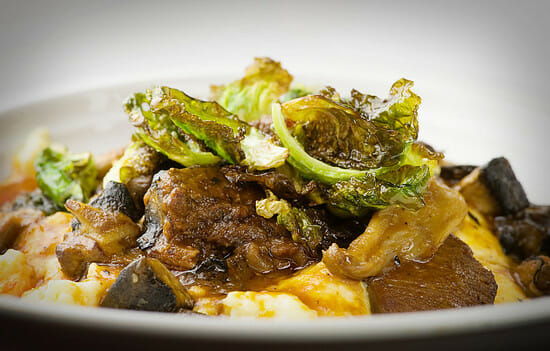 Then came the happiest part of the night as Adam dished out perfect little plates of it for all of us…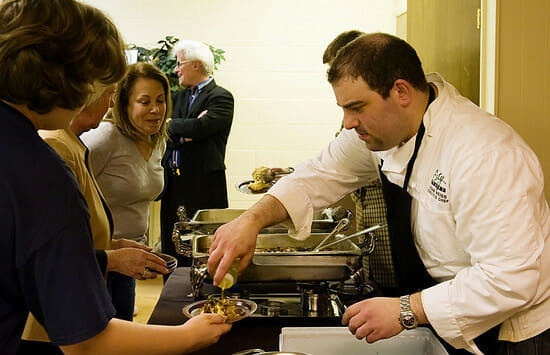 Yes, we were a happy, brussel-sprout-loving bunch that night.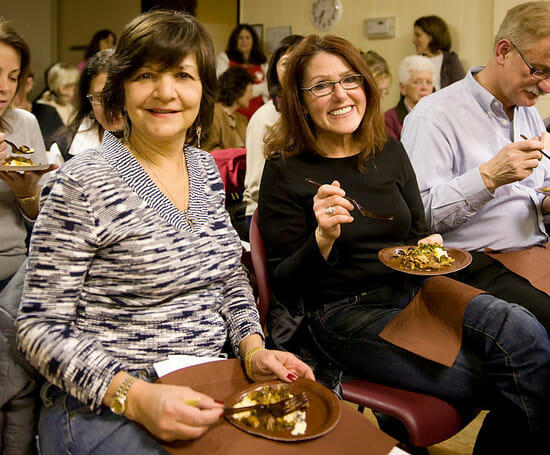 So if you are ever in or around Northern New Jersey and looking for a memorable meal, go see the great folks at Esty Street. These two gentlemen are Phil and Kim – I had to photograph them in black and white because they are just so elegant and charming.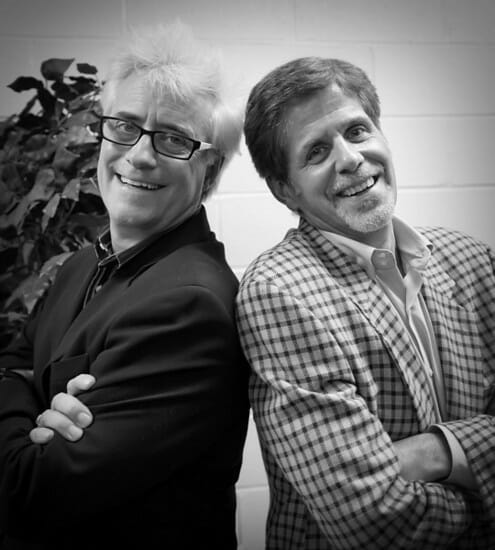 They own the place and have not only made sure that they have an incredible executive chef (Adam, you rock!) but have also decorated the restaurant in a way that will make you want to move in.
Books…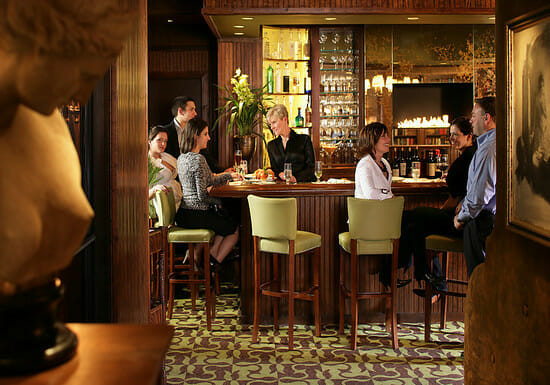 Fireplace at the bar..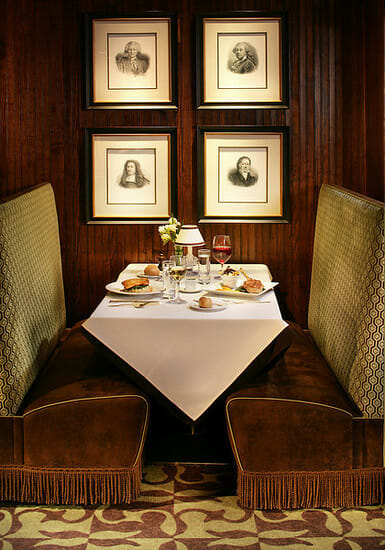 Cozy tables for two…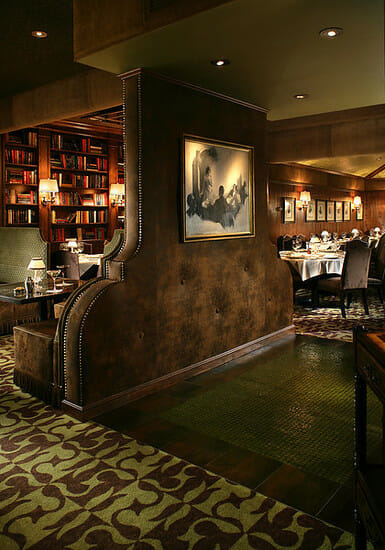 I'm going. I'm going NOW. Kim, can you have my table waiting?
And for you brave souls who want to try this at home, here is the recipe, with thanks to the amazing Adam Weiss and my friends at Esty Street.
BRAISED SHORT RIBS OF BEEF WITH MASCARPONE POLENTA, SAUTEED WILD MUSHROOMS, CRISPY BRUSSEL SPROUT LEAVES and CABERNET SAUVIGNON SAUCE
Braised Beef Short Ribs
Print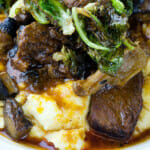 Braised Short Ribs with Mascarpone Polenta
---
Ingredients
Braised Short Ribs
8 pounds boneless beef short ribs, trimmed of excess fat, and portioned*
Kosher salt and black pepper to taste
1 cup vegetable or olive oil, not extra virgin
2 Spanish onions, diced
2 carrots, diced
2-ounce can tomato paste
2 cups cabernet sauvignon, or any full bodied red wine
3-4 cups veal or beef stock
3-4 cups chicken stock
MASCARPONE POLENTA
2 tablespoons vegetable or olive oil, not extra virgin
1 small Spanish onion, finely chopped
2 cups milk
2 cups water or chicken broth
Kosher salt to taste
2 cups yellow or white polenta
4-ounces mascarpone cheese
SAUTEED WILD MUSHROOMS
5 pounds mushrooms, such as portabella, cremini, shiitake, oyster etc.
¼ cup vegetable or olive oil, not extra virgin
Kosher salt to taste
CRISPY BRUSSEL SPROUT LEAVES
2 pints brussel sprouts
Vegetable oil for frying
Kosher salt to taste
---
Instructions
Braised Short Ribs
Season the boneless short ribs of beef very well with Kosher salt and black pepper.
In a roasting pan, or a large sauté pan, heat the oil over high heat.
Sear the short ribs on both sides to brown the beef. This may take a couple of batches to sear all the pieces of meat. Overcrowding the pan causes the meat to steam and not sear.
Remove the meat to the side. Drain off the excess fat.
Add the onions and carrots to the pan. Saute the vegetables until they are slightly browned. Add the tomato paste and cook for one minute.
Deglaze the pan with the cabernet sauvingon. Reduce slightly.
Add 3 cups of the veal or beef stock and 3 cups of chicken stock to the pan. Bring to a boil.
Place the short ribs back into the roasting pan. Cover with a lid or aluminum foil.
Place into the center of a preheated 325-degree oven. Braise for approximately three to four hours, or until the meat is fork tender.
Remove the meat from the pan and keep warmed. Strain the liquid through a sieve. Add more stock if necessary. Season to taste with Kosher salt and black pepper.
At this point the meat can be served immediately or refrigerated overnight and reheated in the cabernet sauce.
Mascarpone Polenta
In a small pot, heat the oil on medium heat. Add the finely chopped onion and sauté until translucent.
Add the milk and water or chicken stock. Season very well with Kosher salt. Bring to a boil.
Whisk in the polenta stirring constantly.
Bring back to a boil. Cover with a lid or aluminum foil.
Place into a 400-degree oven for 25 minutes. Remove the lid and with a wooden spoon stir the polenta. At this point the polenta can either be finished with the mascarpone cheese or transferred to another container and refrigerated.
If refrigerated, place the firm polenta into an electric mixer and soften with the flat beater attachment. Add some water or chicken stock to the polenta and heat carefully over low heat in a pot or in the microwave in a glass container covered with plastic wrap, stirring occasionally. Once hot, add the mascarpone cheese into the polenta.
SAUTEED WILD MUSHROOMS
1.In a large sauté pan, heat the oil. Add the mushrooms in batches and sauté until golden brown. Season to taste with Kosher salt.
2.At this point the mushrooms can be served immediately or refrigerated. Once refrigerated, reheat carefully in the microwave. Add the mushrooms to the cabernet sauce.
CRISPY BRUSSEL SPROUT LEAVES
Cut off the ends of the brussel sprouts first.
Second, cut then in half from top to bottom.
Then, cut the core off the brussel sprout, like a small cabbage.
Finally, pull apart the leaves into separate pieces.
In a deep pot, or fryer, heat the vegetable oil to 300 degrees.
Carefully, fry the leaves in the oil until crispy.
Drain the brussel sprout leaves onto paper towels. Sprinkle with Kosher salt as soon as they are place onto the towels. Cool to room temperature.
Notes
*If you cannot find boneless short ribs, you can use bone-in short ribs or substitute brisket of beef and braise the same way. Your local butcher can be of assistance with you on this issue as well as fabrication. However, you need to slice the brisket once braised.