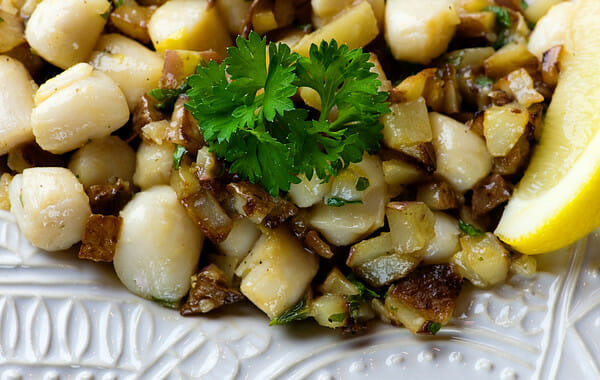 1 large red skinned potato, cut into tiny dice
5 tablespoons olive oil
½ pound bay scallops
1 tablespoon fresh grated lemon zest
1 clove garlic, minced
¼ cup chopped fresh parsley
2 tablespoons lemon juice
Salt and pepper
Lemon wedges and parsley for garnish
1. Heat 3 tablespoons oil in skillet over med-high heat and add potatoes. Saute until golden brown, 10-15 minutes. Remove from skillet and set aside.
2. Add remaining oil to skillet and heat over medium high heat. Add scallops and cook, stirring constantly, until they are lightly seared, 2-3 minutes.
3. Add lemon zest and garlic and cook 1 minute more. Return potatoes to skillet with parsley and stir to blend. Add lemon juice and season with salt and pepper.
4. Serve at once garnished with lemon wedges and parsley for garnish.