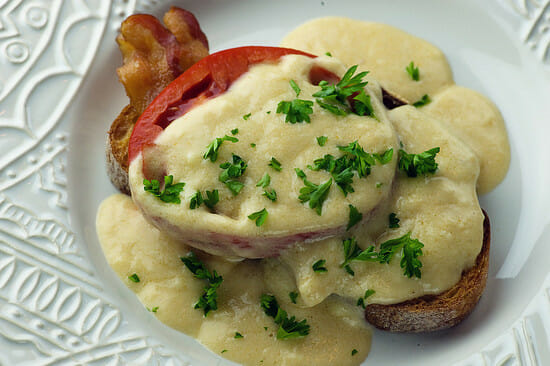 I really wanted to title this post "Welsh Rabbit," since that is the name that this recipe sometimes goes by, but I was afraid you would think I had gone and cooked up some small woodland creatures. But don't worry, no bunnies were harmed in the making of this old-fashioned country dish. In its most basic form, it is a slice of bread doused in melted cheese…but you know I can't leave well enough alone, and so my version includes a thick slice of tomato, some beer and Worcestershire sauce stirred into the melted cheese (Vermont cheddar of course), some chopped parsley. And bacon. Because I think I have firmly established that every recipe is better with bacon.
You can, of course, customize your rabbit any way you like. The only requirements are that you use nice bread (I used ciabatta from my beloved Fairway market, but I have seen it made with everything from English muffins to sourdough bread) and nice cheese. I do think cheddar is the best because it melts so very perfectly. This is comfort food with a capital C, and makes a perfect cozy dinner on a chilly night.
Print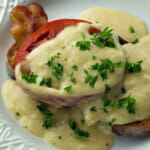 Welsh Rarebit
---
Yield:

serves 5
Ingredients
2 cups milk
3/4 cup butter
1/4 cup flour
2 cups grated cheddar
1/2 cup beer
1/2 teaspoon tomato paste
1 teaspoon Worcestershire sauce
1/4 teaspoon mustard
10 slices cooked bacon
10 thick tomato slices
5 slices bread, lightly toasted
chopped parsley
---
Instructions
Heat milk in a small saucepan. Melt 1/4 cup butter in another saucepan, stir in flour and cook for 2 minutes. Whisk hot milk into flour mixture, stirring constantly until thickened, about 5 minutes.
Add cheese, beer, tomato paste, Worcestershire and mustard and stir constantly over low heat until cheese is melted, about 3-5 minutes.
Spread remaining butter on bread and place on broiler-proof pan or cookie sheet. Top bread with bacon, then tomato. Pour 1/2 cup cheese sauce over each bread slice. Broil until lightly browned, about 2 minutes.
Garnish each with chopped parsley and serve, assuring diners that there are no bunnies involved.