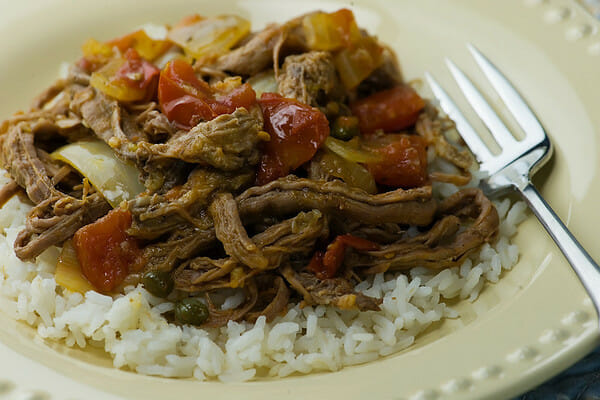 2 pounds flank steak
1 carrot, chopped
2 ribs celery, chopped
1 onion, quartered
5 tablespoons olive oil
2 tablespoons lime juice
3 tablespoons orange juice
4 cloves garlic, minced
Salt and pepper
1 large onion, chopped
1 jalapeno pepper, seeded and minced
3 tomatoes, seeded and chopped
1 cup marinara sauce
1 teaspoon cinnamon
1 teaspoon cumin
¼ teaspoon ground cloves
2 tablespoons capers
1. Put the steak, carrot, celery and quartered onion in a heavy pot and add water to cover. Bring to a boil and then simmer until meat is very tender, anywhere from 2-3 hours depending on the cut of meat. Cool in cooking liquid and then remove meat. Reserve the stock.
2. Shred the beef into strips, using your fingers or two forks. Place in large bowl.
3. Mix 2 tablespoons oil, lime and orange juice, ¼ of the minced garlic, salt and pepper. Pour over beef, mix well and marinate for one hour at room temperature.
4. Heat remaining oil over medium high heat in large skillet and add chopped onion, remaining garlic and jalapeno. Cook for 5 minutes and add tomato. Cook 1 minute more and add marinara sauce, 1 cup reserved stock and spices. Simmer 15 minutes. Stir in the beef with the marinade and add capers. Simmer 15 minutes more. Season to taste with salt and pepper.
5. Serve over rice, or be adventurous and go for the fried bananas on the side.