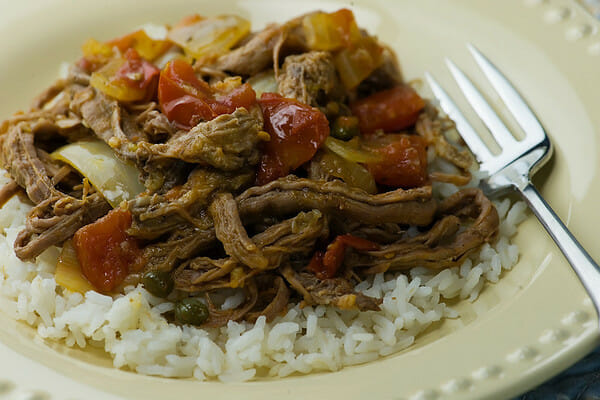 Rrrrrropa Vee-ay-ha!
Half of the reason I make this dish is because I like to say it. Give it a try.
The other half is that it is one of the ultimate great comfort foods of the world. Roughly translated it means "old clothes," reason being that when it is done, the shredded beef looks like a pile of old clothes. Theoretically. I think it looks like a pile of mouthwatering shredded beef that has been slow cooked in tomato and onion until your entire kitchen smells like heaven and you want to toss your hat in the air and shout "RRRRROPA VEE-AY-HA!!"
Or maybe not. It's pretty fabulous, though. As the tag says, it is a Slow Sunday Supper, because the beef needs to simmer slowly and happily until it is easy to shred with a couple of forks, or even your fingers if you are a fancy cook like me. There are a million different variations on this dish, and mine has been refined over the years to be a nice redheaded Irish Catholic girl's version of this Cuban dish. So proceed at your own risk, all you purists out there. I serve it on a bed of rice, but I have heard tell that it is great with fried bananas on the side, and I would bet that any leftovers would be wonderful reheated and eaten out of corn tortillas.
That's all I have to say about this one, except for…Rrrrrropa Vee-ay-ha!!!!!!
I'll stop now.
ROPA VIEJA, adapted from COLD WEATHER COOKING by Sarah Leah Chase
Ropa Vieja!
Ingredients
2 pounds flank steak
1 carrot, chopped
2 ribs celery, chopped
1 onion, quartered
5 tablespoons olive oil
2 tablespoons lime juice
3 tablespoons orange juice
4 cloves garlic, minced
Salt and pepper
1 large onion, chopped
1 jalapeno pepper, seeded and minced
3 tomatoes, seeded and chopped
1 cup marinara sauce
1 teaspoon cinnamon
1 teaspoon cumin
¼ teaspoon ground cloves
2 tablespoons capers
Instructions
Put the steak, carrot, celery and quartered onion in a heavy pot and add water to cover. Bring to a boil and then simmer until meat is very tender, anywhere from 2-3 hours depending on the cut of meat. Cool in cooking liquid and then remove meat. Reserve the stock.
Shred the beef into strips, using your fingers or two forks. Place in large bowl.
Mix 2 tablespoons oil, lime and orange juice, ¼ of the minced garlic, salt and pepper. Pour over beef, mix well and marinate for one hour at room temperature.
Heat remaining oil over medium high heat in large skillet and add chopped onion, remaining garlic and jalapeno. Cook for 5 minutes and add tomato. Cook 1 minute more and add marinara sauce, 1 cup reserved stock and spices. Simmer 15 minutes. Stir in the beef with the marinade and add capers. Simmer 15 minutes more. Season to taste with salt and pepper.
Serve over rice, or be adventurous and go for the fried bananas on the side.