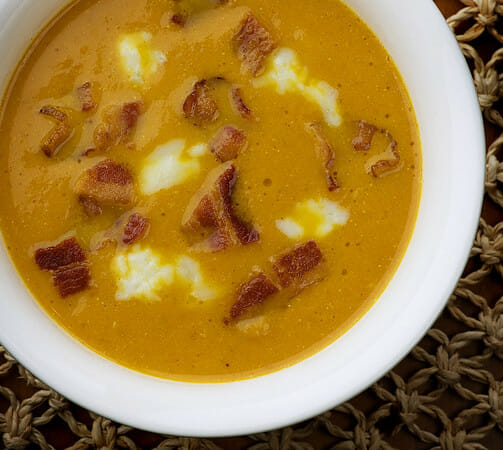 Pumpkin Soup with Bacon and Blue Cheese
Ingredients
2 15 ounce cans pumpkin
1 quart chicken stock
1 cup half-and-half
1 shallot, minced
1/4 cup molasses
1 teaspoon pumpkin pie spice
1 teaspoon salt
1/4 teaspoon cayenne pepper
6 slices bacon
1 cup crumbled blue cheese
Directions
1. Stir together the pumpkin, chicken stock, half-and-half, shallot, molasses, pumpkin pie spice, salt, and cayenne pepper in a large stockpot over low heat; simmer 10 minutes.
2. While soup is cooking, cook bacon until crispy and crumble into pieces.
3. Ladle soup into bowls. Top with bacon and blue cheese. Sigh with happiness.