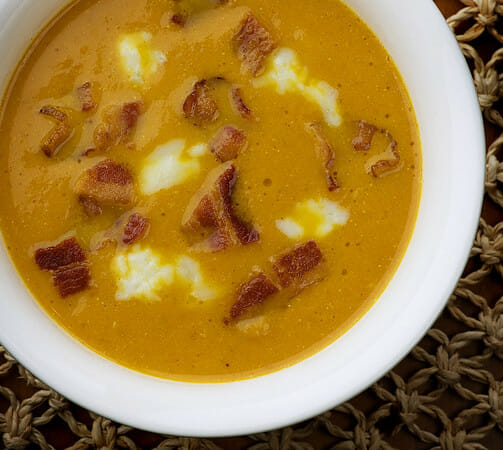 Pumpkin, pumpkin, pumpkin. I do love pumpkin. Pumpkin pie, pumpkin bread, pumpkin muffins. Of course there are THESE:
Incredibly Amazingly Delicious Pumpkin Pie Bars
I think there is only one thing that could make pumpkin better than it already is. Say together with me now…
B A C O N.
And this recipe not only involves both pumpkin AND bacon, but it also comes together in, oh, about 10 minutes. Does life get any better than this? I don't think so. Sweet, salty, cheesy, bacony, pumpkiny wonderfulness. Who loves you, baby?
Pumpkin Soup with Bacon and Blue Cheese
Ingredients
2 15 ounce cans pumpkin
1 quart chicken stock
1 cup half-and-half
1 shallot, minced
¼ cup molasses
1 teaspoon pumpkin pie spice
1 teaspoon salt
¼ teaspoon cayenne pepper
6 slices bacon
1 cup crumbled blue cheese
Instructions
Stir together the pumpkin, chicken stock, half-and-half, shallot, molasses, pumpkin pie spice, salt, and cayenne pepper in a large stockpot over low heat; simmer 10 minutes.
While soup is cooking, cook bacon until crispy and crumble into pieces.
Ladle soup into bowls. Top with bacon and blue cheese. Sigh with happiness.