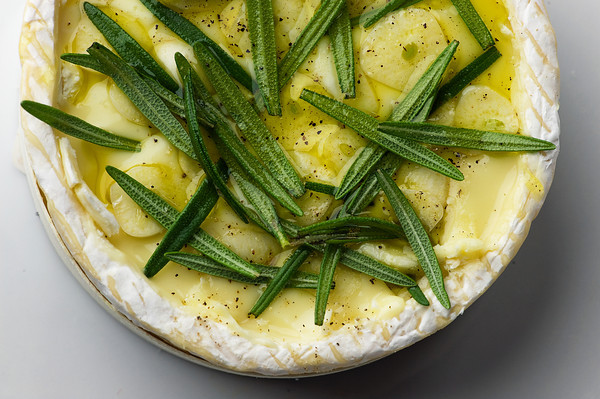 1 round of camembert (the kind that comes in the thin wooden box)
2 cloves of garlic, peeled and sliced
1 sprig of fresh rosemary, with the leaves stripped off
Sea salt and freshly ground black pepper
¼ cup extra virgin olive oil
½ cup grated parmesan cheese
8 ounces penne
1 pound baby spinach
1. Open the box of cheese and unwrap it. Put it back in the wooden box, or in a small baking dish if it didn't come in wooden box.
2. Cut a circle in the top of the rind, then peel off and discard (see picture above)
3. Lay the garlic slices on top of the cheese and cover with 2 tablespoons olive oil.
4. Scatter the rosemary leaves over the top. Grind pepper over all.
5. Bake the cheese at 350 for about 25 minutes until soft.
6. When the cheese has 10 minutes left to cook, cook pasta until al dente. When the pasta is cooked, add the spinach to the pasta for about 30 seconds, then drain all.
9. Add remaining olive oil and grated Parmesan to the pasta. Season with salt and pepper.
10. Remove the cheese from the oven and scoop the melted cheese into the pasta. Toss thoroughly and serve.
Recipe adapted from Jamie Oliver's recipe