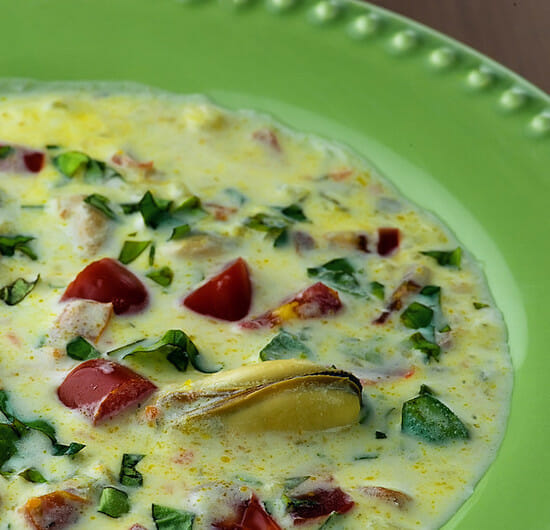 Remember the great mussel with blue cheese recipe from a couple of weeks ago?
Well, when I originally got those mussels (or, I should say when the helpful Southern husband went and got those mussels) they were supposed to be made into a mussel bisque. I had been meaning to make the mussel bisque recipe from the SILVER PALATE cookbook for the past 100 years or so, but never seemed to get around to it. But I was bound and determined this time, and picked up all the ingredients…but broke one of my golden rules, which is the Always Read The Recipe Carefully First To See How Much Time It Takes To Make Rule. And so when I got home from work in the rain that Friday night and finally read the dang thing, I realized that this was not a weekday quick dish, but a weekend leisurely dish.
Oops.
So THOSE mussels went into the speedy blue cheese recipe, but I was prepared for the next batch, and so last Sunday I finally made the bisque. I should warn you that while it is not hard at all to make, it DOES involve steaming the mussels and then taking each and every one of those little puppies out of the shell. Not hard, but this is the sort of thing that one likes to come to grips with beforehand. Anyway, the soup is a gorgeous, rich concoction of mussel broth, white wine, cream, tomatoes, basil and a load of tender mussels. I served it up with a salad and some fresh bread and a nice merlot, and voila! the perfect Sunday supper.
Print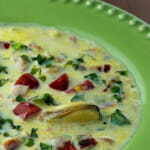 Mussel Bisque
---
Yield:

Serves about 6-8 as main course
Ingredients
2 cups water
3 cups dry white wine
3 pounds mussels, rinsed and bearded
1 stick butter
1 large onion, chopped
1 large leek, white part and 2/3 green part, cleaned and minced
2 carrots, minced
4 cloves garlic, minced
3 medium tomatoes, seeded and chopped
2 tablespoons chopped fresh dill
3 tablespoons chopped fresh basil
2 cups light cream
1 cup heavy cream
Salt and fresh ground pepper
---
Instructions
Pour water and one cup wine into large pan. Add mussels, cover pan and steam until mussels are open, about 3-5 minutes. Discard any mussels that do not open and cool.
When cool enough to handle, remove mussel meat from shell and set aside. Save 3 cups of cooking liquid and set aside.
Melt butter in large stock pot over high heat and add onion, leek, carrots and garlic. Saute for 5 minutes, reduce heat to low, cover pot and and cook for 25 minutes, stirring every 5 minutes or so.
Add tomatoes and cook for 5 more minutes. Add remaining wine to mussel cooking liquid, add to pot and heat to boiling. Reduce heat and simmer uncovered for 15 minutes.
Add herbs, then creams, then mussel meats. Season to taste with salt and pepper and heat just until soup is heated through. Serve with salad and nice crusty bread.
Adapted from the Silver Palate Good Times Cookbook