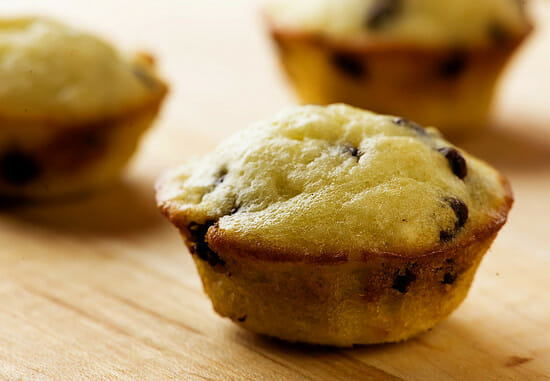 1 cup flour
1 teaspoon baking powder
½ teaspoon baking soda
¼ teaspoon salt
2 tablespoons sugar
⅔ cup buttermilk
1 egg
2 tablespoons maple syrup
2 tablespoons melted butter
½ cup mini chocolate chips
Extra melted butter and maple syrup for dipping
Preheat oven to 350 degrees.
Combine flour, baking powder, baking soda, salt and sugar in a medium bowl. Sift together with a wire whisk.
In another bowl, stir buttermilk, egg, maple syrup and melted butter until just combined.
Add wet ingredients to dry ingredients and stir with a spoon until combined.
Stir in chocolate chips. Reserve a few chips to sprinkle on the tops.
Divide batter into well-greased mini muffin tin
Bake for 12 minutes.
Cool in tin for 5-10 minutes. You may want to loosen around the edges with a toothpick to help them pop out.
Serve with melted butter and syrup for heavenly dunking.
{Please close floating ads before printing.}
---
Article printed from Framed Cooks: http://www.framedcooks.com