The only thing better than meatloaf? Sandwiches made out of the leftovers!! There's nothing better for a busy weeknight supper than meatloaf sandwiches.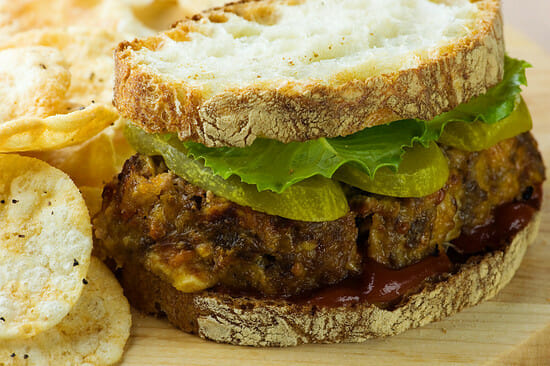 So, meatloaf-making is not a short process. It's not hard, but it's not short. So in my house, that automatically turns it into a Sunday dinner, when I am perfectly happy to be messing around in the kitchen for happy hours on end.
On weeknights, however, my rule is to be in and out of the kitchen in 30 minutes, and for those nights when the meatloaf craving starts, that means meatloaf sandwiches.   Meatloaf sandwiches are usually pretty dang great with any kind of meatloaf, but they are especially great with this particular version.  This meatloaf is laced with both horseradish and shredded cheddar cheese, so it is already way ahead of most of its meatloaf brethren.
The only thing better than meatloaf? Sandwiches made out of the leftovers!! Click To TweetThe recipe calls for letting it sit for abut 15 minutes after it comes out of the oven, so if you are going directly for the meatloaf sandwiches, by the time it makes it into the sandwich it is still plenty warm, but firm enough to stay intact as you lay it upon some nice country bread and anoint it with ketchup, thin sliced dill pickles and a layer of romaine lettuce. However, you can definitely have it as regular meatloaf on Sunday, and then come home to meatloaf sandwiches for dinner on Monday night.
And we all lived happily ever after!

Print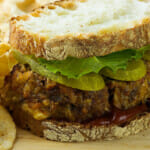 Meatloaf Sandwiches
---
Yield:

6-8 sandwiches, depending on how much of the meatloaf you eat in advance!
Ingredients
1 tablespoon olive oil
1 medium onion, diced
2 tablespoons tomato paste
1 1/2 pounds ground beef or meatloaf mix
1 cup crushed saltines
1 cup grated cheddar
3 eggs
2 tablespoons horseradish
1 tablespoon Worcestershire sauce
1/2 teaspoon salt
1/4 teaspoon pepper
Country style bread
Lettuce
Sliced dill pickles
Ketchup
---
Instructions
Preheat oven to 375.
Heat oil in skillet over medium heat and add onions. Cook 5 minutes until softened. Add tomato paste and cook, stirring regularly, for 3 minutes.
Mix together beef, onion mixture, crackers, cheese, horseradish, Worcestershire, salt and pepper, using your (well-washed!) hands until just combined.
Line a baking sheet with foil or parchment and shape beef mixture into a 9 inch loaf. Bake until cooked through, about 45 minutes. Let rest for 15 minutes (this part is important so your meatloaf cuts properly!)
Cut into thick slices and place on bread with pickles, lettuce and ketchup. Top with another slice of bread and serve!