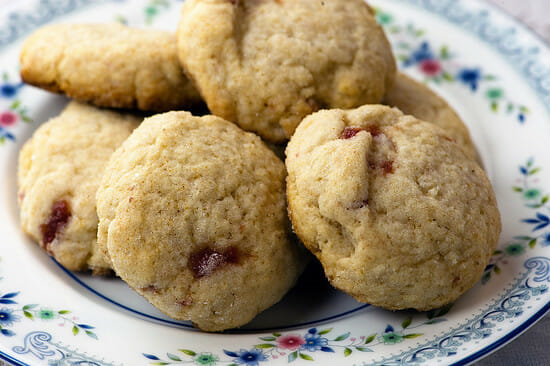 2 cups all-purpose flour
1 teaspoon baking powder
½ teaspoon ground ginger
¼ teaspoon salt
1 stick (8 tablespoons) unsalted butter, at room temperature
⅔ cups sugar
1 egg
2 tablespoons milk
½ teaspoon vanilla extract
¼ cup of cherry preserves, or any thick jam you have on hand
1. Position the racks to divide the oven into thirds and preheat the oven to 375 degrees F. Line two baking sheets with parchment or silicone mats.
2. Whisk together the flour, baking powder, ginger and salt.
3. Beat the butter with a mixer on medium speed until creamy and smooth. Add the sugar and beat for a minute. Add the egg and beat for 2 minutes more. The mixture will be satiny. Add the milk and vanilla and beat just to combine. Don't be concerned if the mixture looks curdled, it will even out shortly. Reduce the mixer speed to low, add the jam and beat for 1 minute more. With the mixer still on low add the dry ingredients and mix only until they are incorporated. You'll have a very thick dough.
4. Spoon the dough by the rounded teaspoonfuls into a dish of granulated sugar. Toss to coat and place on a baking sheet, leaving about an inch between the mounds.
5. Bake the cookies for 10 to 12 minutes, rotating the pans from top to bottom and front to back at the midway point. The cookies will be only just firm, fairly pale and browned around the edges. Pull the sheets from the oven and allow the cookies to rest for 1 minute, the carefully transfer them to racks to cool to room temperature.
6. Repeat with the remainder of the dough, cooling the baking sheets between batches.