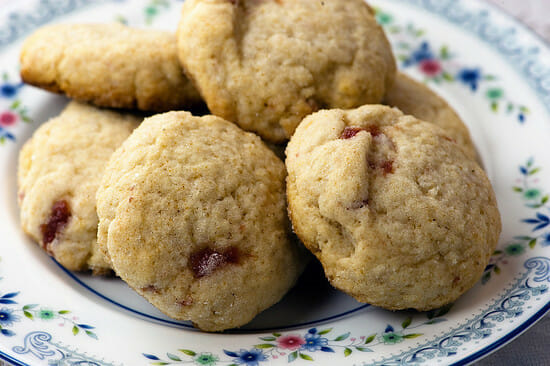 So, do you ever have one of those days where everything just seems to go your way? The other day I was yearning to bake just a simple sugar cookie, and usually I have everything I need to make basic baked goods in the house. Because you never know when someone is going to remember at 9 at night that they need to bring in cupcakes for So-And-So's birthday. Not that I am pointing out anyone in particular. Who happens to live in my house. Who happens to wear mismatched Day-Glo shoelaces in her Converse sneakers. Or anything.
So I was sad to see that I had only one lonely egg in my fridge, and so instead of happily baking my own cookies, I thought I would console myself by browsing around on www.joythebaker.com — my FAVORITE baking site — to drown my sorrows in some of her gorgeous pictures of baked stuff.
When what should I find but a recipe for cherry jam cookies that she specifically says are to be made when you have only one egg in the house. (and when you are down to your last stick of butter, which has never ever happened to me. I think butter is like oxygen — if you don't have huge amounts of it around at all times, it gets hard to breathe.) Well…was that a SIGN, or what?
You can make these super-simple, super-good cookies with whatever jam you have on hand. I had a jar of this from Stonewall Kitchen. Stonewall Kitchen = rocking good jams. If your local store doesn't carry them, they have a great website. Smuckers, you should be very, very afraid.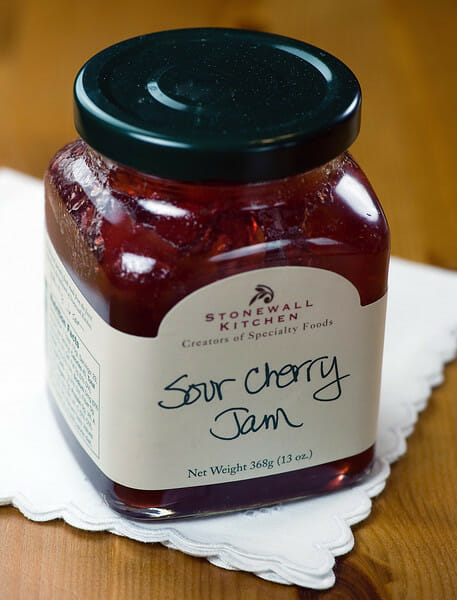 Anyway, one egg later these beautiful, scrumptious cookies were born, and they were every bit as wonderful as Joy promised. I think I am going to run out of things more often. Just not butter.
Jam Cookies, from Joy The Baker 
Print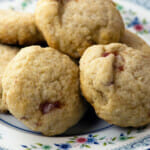 Jam Sugar Cookies
---
Ingredients
2 cups all-purpose flour
1 teaspoon baking powder
1/2 teaspoon ground ginger
1/4 teaspoon salt
1 stick (8 tablespoons) unsalted butter, at room temperature
2/3 cups sugar
1 egg
2 tablespoons milk
1/2 teaspoon vanilla extract
1/4 cup of cherry preserves, or any thick jam you have on hand
---
Instructions
Position the racks to divide the oven into thirds and preheat the oven to 375 degrees F. Line two baking sheets with parchment or silicone mats.
Whisk together the flour, baking powder, ginger and salt.
Beat the butter with a mixer on medium speed until creamy and smooth. Add the sugar and beat for a minute. Add the egg and beat for 2 minutes more. The mixture will be satiny. Add the milk and vanilla and beat just to combine. Don't be concerned if the mixture looks curdled, it will even out shortly. Reduce the mixer speed to low, add the jam and beat for 1 minute more. With the mixer still on low add the dry ingredients and mix only until they are incorporated. You'll have a very thick dough.
Spoon the dough by the rounded teaspoonfuls into a dish of granulated sugar. Toss to coat and place on a baking sheet, leaving about an inch between the mounds.
Bake the cookies for 10 to 12 minutes, rotating the pans from top to bottom and front to back at the midway point. The cookies will be only just firm, fairly pale and browned around the edges. Pull the sheets from the oven and allow the cookies to rest for 1 minute, the carefully transfer them to racks to cool to room temperature.
Repeat with the remainder of the dough, cooling the baking sheets between batches.