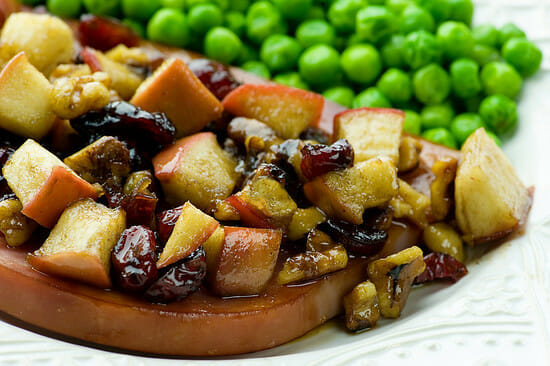 1 large ham steak
1 medium apple, cored and chopped
¼ cup butter
¼ cup chopped walnuts
¼ cup dried cranberries
¼ cup maple syrup
¼ cup brown sugar
1. Heat ham over medium low heat in large skillet until heated through and slightly browned.
2. Meanwhile, melt butter in medium skillet over medium high heat and add walnuts. Stir until walnuts are browning, about 2-3 minutes.
3. Add apple, walnuts, cranberries, syrup and brown sugar. Bring to boil and stir until sugar is dissolved and apple softens slightly, about 3 minutes.
4. Place ham slices on plates and ladle sauce over top. Serve immediately.