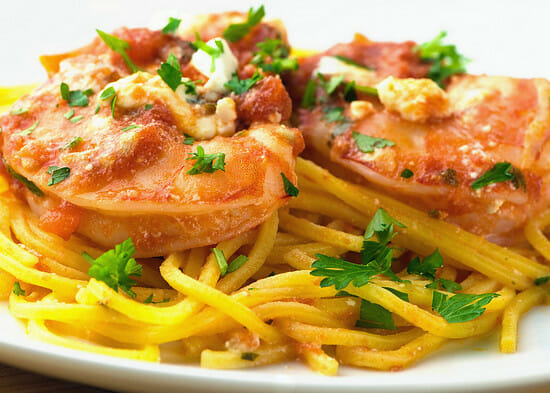 1 tablespoon olive oil
4 garlic cloves
½ cup chopped parsley
1 28 ounce can chopped tomatoes
1½ pounds large shrimp, peeled (get them from Costco! Trust me!)
1 cup feta cheese, crumbled
2 tablespoons lemon juice
Fresh ground pepper
8 ounces pasta, cooked and drained
1. Heat oil in large skillet over medium heat and add garlic, stir for 30 seconds. Add ¼ cup parsley and all the tomatoes, reduce heat and simmer 10 minutes.
2. Add shrimp and cover skillet. Cook an additional 5 minutes or until shrimp are pink and cooked through.
3. Add feta and stir. Simmer over low heat for about one minute until cheese is slightly melting.
4. Pour pasta into skillet and toss to combine.
5. Divide among plates. Drizzle with lemon juice, sprinkle remaining parsley over top, and grind pepper over all.