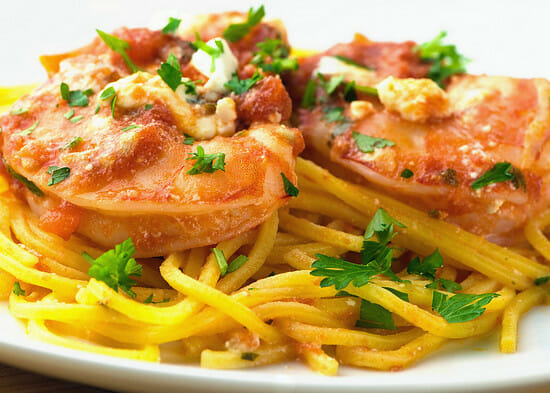 I do love this recipe. It is a mixture of regular shrimp scampi and that classic recipe where you bake together shrimp and tomatoes and feta, only there is no baking, because this is one of my most tried and true speedy weeknight dishes, and you KNOW how I feel about the 30 minutes and under rule. So this delicious little number does it all in one skillet. Well, and one pot for the pasta if you are going to get all technical on me.
First off…really good large shrimp please. There is only one seafood place for me and that is Costco, who stocks the BEST, most succulent shrimp anywhere. I heart you, Costco. Next, a good, soft feta cheese — worth going to the deli or cheese counter instead of buying that pre-crumbled stuff in the regular cheese section of the supermarket. As a matter of fact, it is ALWAYS better to avoid that pre-crumbled feta. Sure, it does save you some time — about 15 seconds, because how hard is it to crumble feta??? And the pre-crumbled stuff has been pre-crumbled for a while, so it has had lots of time to dry out. These are my words of wisdom for you for the day: crumble your own feta. You'll thank me, I promise.
Where was I? Oh yes. Fresh parsley is important for this one. But you can and should use tomatoes in the can, they are just fine. I like the Muir Glen brand, but up to you. Anyway, if you start the sauce at the same time you put the pasta water on to boil, you should be all ready to roll in about 20 minutes, start to finish. This is not only a great delicious weekday dish, but a totally reliable company recipe — it always comes out great and looks very elegant once you have the shrimp all nestled in on the plate in their bed of pasta and tomatoes. Tres Elegant! Or however you say that in Greek. So here you go, one of my all-time favorites, from me to you.


Greek Style Shrimp Scampi
Ingredients
1 tablespoon olive oil
4 garlic cloves
½ cup chopped parsley
1 28 ounce can chopped tomatoes
1½ pounds large shrimp, peeled (get them from Costco! Trust me!)
1 cup feta cheese, crumbled
2 tablespoons lemon juice
Fresh ground pepper
8 ounces pasta, cooked and drained
Instructions
Heat oil in large skillet over medium heat and add garlic, stir for 30 seconds. Add ¼ cup parsley and all the tomatoes, reduce heat and simmer 10 minutes.
Add shrimp and cover skillet. Cook an additional 5 minutes or until shrimp are pink and cooked through.
Add feta and stir. Simmer over low heat for about one minute until cheese is slightly melting.
Pour pasta into skillet and toss to combine.
Divide among plates. Drizzle with lemon juice, sprinkle remaining parsley over top, and grind pepper over all.