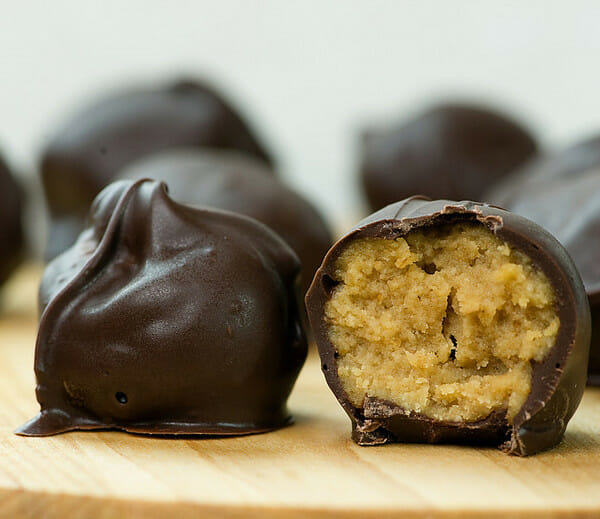 [donotprint]Three ingredients.
One hour.
36 mindblowing truffles.
MINDBLOWING.
And you know I never exaggerate.
But let me back up for a minute. This all started as I was roaming around the Bakerella website. There is an area on this fabulous site called "Bite-size," which always fascinates me. There are a ton of things that I am way too intimidated or impatient to try, like little cake lollipops on sticks, but there are also lots of little baby sweet treats that draw me in like a moth to a flame. And when I saw the words "Nutterbutter" and "truffle" in the same sentence…well, they had me at hello. Or to be perfectly accurate, they had me at Nutterbutter.
So here's what you need: one package of Nutterbutter cookies. One package of cream cheese. One package of chocolate candy melts (I got the kind made by Wilton. If you have a Michael's craft store anywhere nearby, they sell them in all sorts of flavors.) You grind up almost the entire package of cookies in your friendly food processor until they are completely pulverized. Then dump the cookie crumbs into a bowl and mix them up with the softened cream cheese. Honestly, the best way to do this is with your hands. It will seem like a REALLY bad idea for the first 30 seconds or so but trust me, it will all come together. Once the cookies and cream cheese have come together in a smooth truffle dough, start rolling pieces of dough into little one inch balls of heaven. You will be powerless against taking little bites of the truffle dough as you go along, and you will see that it tastes kind of like Nutterbutter cheesecake.
Once you are done making the little balls, it's time for the coating. I dumped the candy melts into a bowl and nuked them for about 2 minutes on 50% power in my microwave, stirring them at 30 second intervals until they were perfectly melted and creamy and smooth. Then all you need to do is roll the little truffle balls in the melted chocolate (I found this easiest by putting them on a teaspoon and swirling them around). Place them on a cookie sheet covered in wax paper, and when you are done, put them in the fridge so the chocolate can harden back up.
From there on in, you are in Nutterbutter truffle heaven. I thought life could not get any better. And then…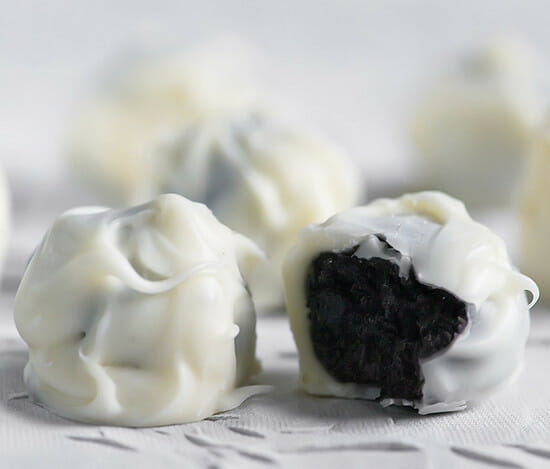 …I made Oreo truffles, with white chocolate coating. All I will say is, I left some on the counter the day my beloved housecleaning guy came this week, and he left me the following note:
"Sweet Mother of God, those oreo truffles are out of this world FANTASTIC!!!"
That pretty much sums things up. [/donotprint]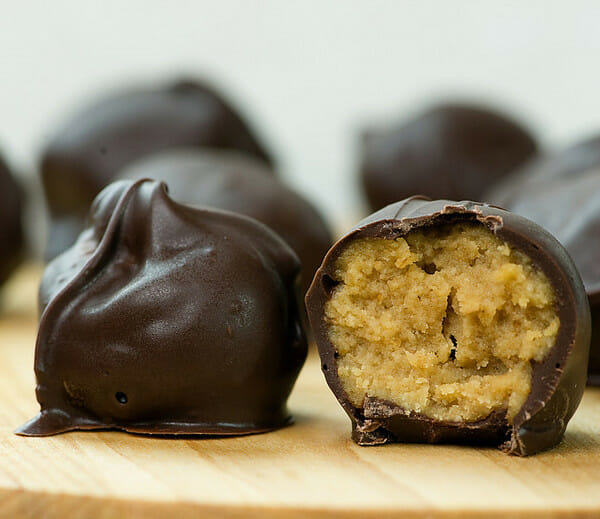 Ingredients
1 16 oz package Nutterbutters or Oreos
1 8 ounce package cream cheese, softened
1 14 ounce package candy melts
Instructions
1. Place all but 6 cookies in food processor and process until ground to fine crumbs.
2. Put crumbs and cream cheese in bowl and mix until completely combined.
3. Form dough into one inch balls
4. Melt candy in microwave in 30 second increments, stirring in between each heating, until melted.
5. Coat each ball in candy and place on cookie sheet covered in wax paper.
6. Chill in refrigerator until candy is hardened.
7. Do what you will with those 6 extra cookies.
Recipe adapted just a little from Bakerella