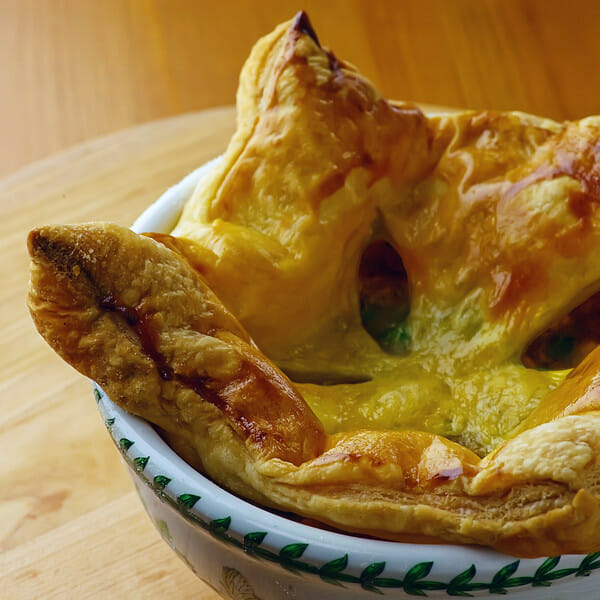 Serves 4
4 tablespoons butter
1 medium onion, diced
1 large carrot, peeled and diced
½ cup flour
Salt and pepper
4 cups chicken broth
3 cups cooked chicken, shredded
1 cup frozen peas
1/1/2 teaspoons chopped fresh thyme
1 sheet frozen puff pastry, thawed
1 large egg yolk
1. Melt butter in medium saucepan. Add carrot and onion and saute for 6 minutes.
2. Add flour and stir to coat. Cook for another 5 minutes, stirring frequently.
3. Add broth to carrot mixturem whisking constantly. Bring to boil and then simmer for 10 minutes or until thickened.
4. Add chicken, peas, thyme and season with salt and pepper.
5. Divide mixture among 4 single serving baking dishes.
6. Preheat over to 375. On a lightly floured work surface, roll pastry to ⅛ inch thickness and cut into 4 equal pieces.
7. Cut small vents into pastry and lay pieces over each serving dish.
8. Mix egg yolk with a little water and brush over the top of pastry.
9. Bake until pastry is golden, about 30 minutes.