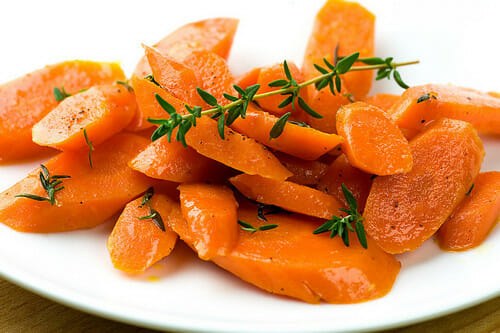 So, I never seem to have a problem figuring out main courses to make for dinner. There are so many recipes waiting in the queue for me to get around to them, I worry that I will never get around to all of them. And dessert? Forget about it. That line-up is even longer. Every Saturday I spread out the pile of possibilities on my kitchen counter and agonize about the fact that I really only should be making one of them. Or two…or three might be okay….
But side dishes often stump me. It's not as hard in the summertime when the fresh produce is all around us, and here are a couple of my favorites:
Roasted String Beans with Walnuts

Chilled Sesame Spinach
But in general, I seem to have some kind of block when it comes to a simple yet satisfying side dish. So when I made this one and it was so easy, so delicious, so colorful…ahhhhhhh. The side dish pressure was off. Fresh thyme does make all the difference with this one, and luckily we are early enough into fall that my brave thyme plant is still hanging in there. This is perfect with any sort of meat or chicken dish, and simple enough that you can make it alongside whatever else you are cooking up without any trouble at all. And isn't it beautiful?
Now back to my ever-multiplying stack of dessert recipes crying to be made. I'm thinking caramel-glazed apple cake, or maybe chocolate cream pie….
Print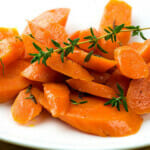 Carrots with Thyme
---
Ingredients
Serves 4
1 1/2 pounds carrots cut on the diagonal into 1/2 inch slices
1 tablespoon butter
4 sprigs thyme, leaves stripped off
1/2 cup water
salt and pepper
---
Instructions
In a large skillet, combine carrots, butter, thyme and water. Bring to a boil over high heat.
Cook until liquid is absorbed, stirring occasionally, 7-9 minutes
Season to taste with salt and pepper.