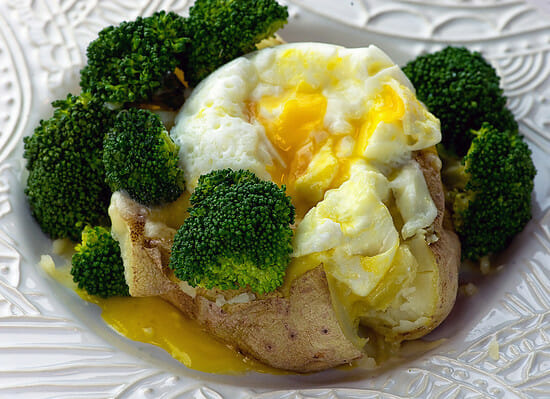 1 Idaho potato, scrubbed
½ cup broccoli florets
¼ cup shredded cheddar cheese
1 egg, either poached or fried
1 tablespoon butter
salt and pepper
1. Prick the potato several times with fork and microwave until cooked through, about 15 minutes on full power.
2. Steam broccoli, or microwave for 3-5 minutes with a little water until crisp-tender.
3. Poach or fry one egg.
4. Split potato open and fluff insides with fork. Spread butter over top and season with salt and pepper. Arrange broccoli over top of potato and scatter cheese over broccoli. Microwave for 1 minute until cheese is just melting.
5. Place egg on top and break yolk so it spreads over all. Grind pepper over top and serve immediately.