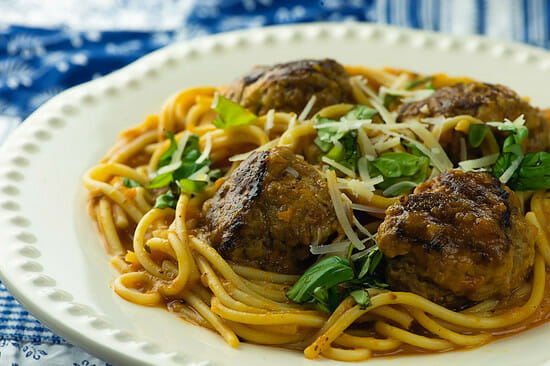 Who doesn't LOVE spaghetti and meatballs? But they are such a production, right? Browning the meatballs, warming the sauce, boiling the pasta…it takes every pot in the house. Right?
Nope.
This recipe makes a FABULOUS spaghetti and meatballs, but here is the beauty part…all in one skillet. And, because everything is cooking up together, the spaghetti soaks up a lot of the gorgeous sauce and meatball flavor, so instead of one sitting on top of the other, all three components are beautifully, harmoniously, delectably, delightfully intermingled. Sounds too good to be true, right? But I am here to tell you, it can be done. And without overloading your dishwasher, on top of everything else.
The basic premise is this: you sear the meatballs (which are made with that beef/pork/veal meatloaf mixture you can get in the supermarket, adding even MORE flavor) quickly just to brown the outside. Then you cook the pasta in a mixture of your favorite marinara sauce thinned with water, and when the pasta is halfway done, you nestle those happy little meatballs into the spaghetti for the second half of the pasta cooking time. 8 minutes later there you have it: perfectly cooked pasta and meatballs, imbued with tomato sauce and ready for the plate.
So if you have been longing for spaghetti and meatballs but have been exhausted by the very thought of it, this is your lucky day, because 30 minutes from now you can be sitting down to this super dish. Pass the parmesan cheese, please!
Skillet Spaghetti and Meatballs
Ingredients
2 slices sandwich bread, crusts removed
¼ cup buttermilk
1 pound meatloaf mix (the combo of ground beef/pork/veal)
⅓ cup grated Parmesan
1 egg yolk
2 minced garlic cloves
½ teaspoon oregano
Salt and pepper
2 tablespoons olive oil
3 cups prepared marinara sauce
2 cups water
8 ounces spaghetti, broken in half
2 tablespoons chopped fresh basil
Instructions
Tear bread into small pieces and mix with buttermilk in medium bowl until it forms a paste. Add meat, cheese, egg yolk, garlic, oregano, salt and pepper and mix. Form into meatballs, using 2 tablespoons of meat mixture per meatball.
Heat oil in large skillet over high heat. Sear meatballs on one side for one minute. Turn meatballs over to cook very briefly on the other side and transfer to plate lined with paper towel. Wipe out skillet.
Add sauce and water to skillet, add pasta and turn heat to medium high. Cover and cook, stirring often, for 8 minutes.
Nestle meatballs into spaghetti, seared side up. Reduce heat to medium low, cover and cook for 4 more minutes, stirring from time to time. Uncover and cook for 4 more minutes or until spaghetti is done, stirring gently from time to time.
Transfer to plates and sprinkle with basil and more Parmesan cheese.