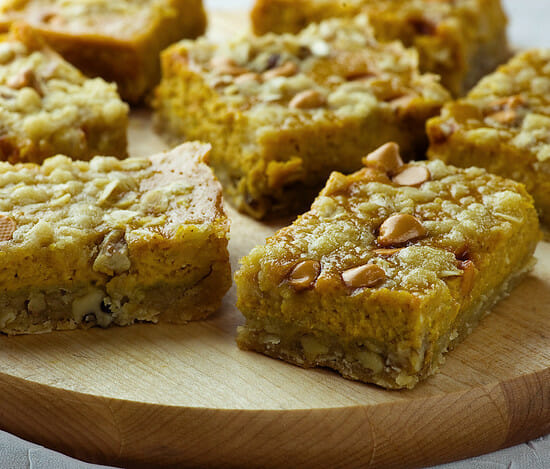 Tis the season for pumpkin – pumpkin pie, pumpkin soup, pumpkin bread, pumpkin muffins. I heart pumpkin. And so whenever a new recipe for pumpkin anything comes my way I will give it a try, especially in these early fall days when the frost is on the…pumpkin.
This recipe comes via my favorite baking site, Joy The Baker, and tastes like a cross between an oatmeal cookie and a slice of really great pumpkin pie. She says you can use either butterscotch or chocolate chips on the top – I made mine with butterscotch because them seemed more pumpkin-ish to me, but since I will definitely be making these another thousand times or so, I will try them with chocolate as well. As with most bar cookies, these are best if you cut them into pretty small squares (an inch or so). Plus that way you can eat ten of them at one time and still feel like you are having just a small bite. Right?
Happy autumn everyone, and bring on the pumpkin…

Print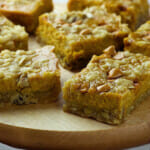 Pumpkin Pie Bars
---
Ingredients
1 1/3 cups flour
3/4 cup sugar
1/2 cup brown sugar
1 1/2 sticks butter
1 cup old-fashioned oats
1/2 cup chopped walnuts
1 8oz package cream cheese, softened
3 eggs
1 15oz can pumpkin
1 tablespoon pumpkin pie spice
1 teaspoon vanilla extract
Handful of butterscotch or chocolate chips
---
Instructions
Preheat oer to 350. Line 13×9 inch pan with foil, with ends extending over sides, and grease with cooking spray.
Combine flour, 1/4 cup of the sugar and all the brown sugar in medium bowl. Add butter and mix with 2 knives until mixture resembles coarse crumbs. You can also do this by pulsing in the food processor. Stir in oats and nuts
Reserve 1 cup of the oat mixture and press the rest into the baking pan. Bake 15 minutes.
Beat cream cheese, remaining sugar, eggs, vanilla, pumpkin and spice until well blended and pour over crust. Sprinkle with remaining oat mixture and chips. Bake 25 minutes at 350.
Cool 10 minutes and use foil ends to transfer to cooling rack. Cool completely and then cut into squares.
Store in refrigerator.
Adapted from Joy The Baker