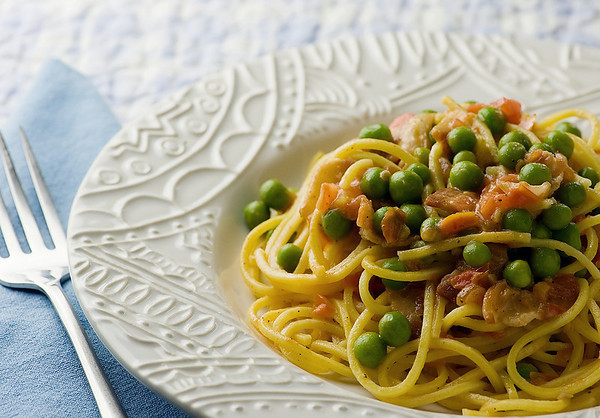 Pasta with Tomatoes, Bacon and Peas in Worcestershire Cream Sauce
Ingredients
1/2 pound spaghetti or other thin pasta
1/3 cup olive oil
2 cloves garlic, smashed
4 ounces bacon, chopped
2 pounds tomatoes, chopped fine
1/4 cup cream
1 tablespoon Worcestershire sauce
1 cup frozen peas, thawed
Fresh ground pepper
Directions
1. Heat olive oil in large skillet and saute garlic until golden brown. Discard garlic and add bacon to pan. Saute bacon until lightly brown, about 2 minutes.
2. Add tomatoes and cook over medium heat for 5 minutes. Add cream and Worcestershire sauce and peas and stir for one minute. Turn off heat and set aside.
3. Meanwhile, cook pasta in salted water until done. Reserve 1/2 cup cooking water. Drain pasta and add to skillet. Toss with sauce over low heat until fully mixed. Add some cooking water if sauce needs loosening.
4. Divide among plates and top with fresh ground pepper and grated Parmesan, if you like.