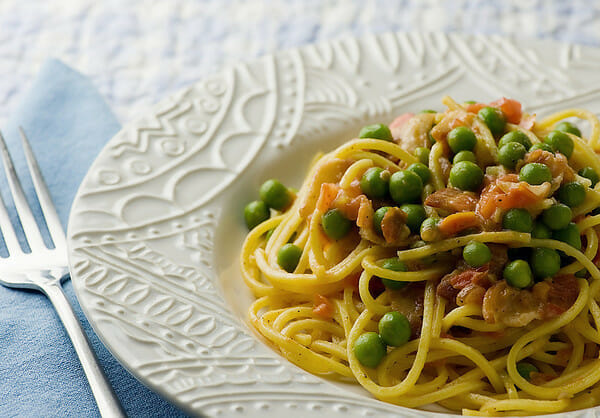 I love trying usual-type recipes with unusual ingredients. Not TOO unusual mind you. But sometimes taking a tried and true dish and shaking things up a little can lead to delicious results. That is exactly what is going on with this recipe, which adds Worcestershire sauce to the standard tomato cream sauce, and also tosses in some bacon. As you know, I will eat basically anything that has bacon in it, and the Worcestershire sauce made it even more intriguing. It also gave me a chance to try out this new pasta that my resourceful Southern husband found for me, on Amazon of all places. Yes, you can buy hard to find pasta on Amazon, along with egg-poaching pods, 50 millimeter camera lenses and dog gates, all things that I personally have purchased there. I hear tell they sell books, too.
Anyway, I had been searching high and low for tagliolini pasta, and he found it on Amazon. And apparently if you buy a certain quantity of something on Amazon, you don't pay shipping. So he bought me three boxes of tagliolini, and three boxes of chitarra, which is like spaghetti, only in a square shape. This particular brand is made in Italy, and it was actually pretty remarkable. I have never been someone who can honestly tell the difference between Ronzoni and the gourmet stuff, but I could DEFINITELY tell the difference with this pasta. Five stars. Two thumbs up. Etc.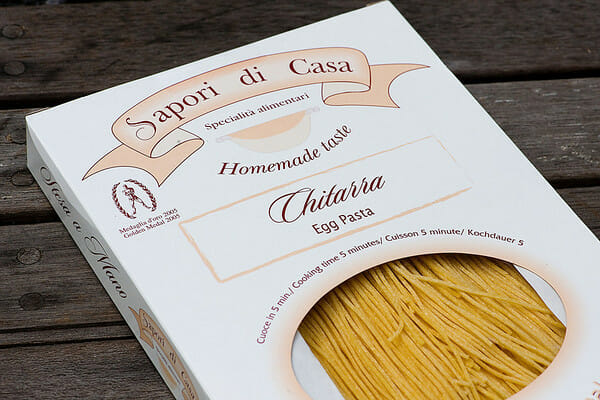 Anyway, on to the actual recipe. The sauce is pretty straightforward — sauteed garlic, chopped bacon, cooked for about 5 minutes with finely chopped tomato and then finished with just a little bit of cream and a little bit of Worcestershire. And since I had some leftover peas I tossed them in there too, because I thought they would be good, and because I can never leave well-enough alone. (And thank you very much, they were just right.) A little pepper, a little fresh grated Parmesan, mmmmmmm.
So go shake up your old favorites.  No fear.
Pasta with Tomatoes, Bacon and Peas in Worcestershire Cream Sauce
Ingredients
½ pound spaghetti or other thin pasta
⅓ cup olive oil
2 cloves garlic, smashed
4 ounces bacon, chopped
2 pounds tomatoes, chopped fine
¼ cup cream
1 tablespoon Worcestershire sauce
1 cup frozen peas, thawed
Fresh ground pepper
Instructions
Heat olive oil in large skillet and saute garlic until golden brown. Discard garlic and add bacon to pan. Saute bacon until lightly brown, about 2 minutes.
Add tomatoes and cook over medium heat for 5 minutes. Add cream and Worcestershire sauce and peas and stir for one minute. Turn off heat and set aside.
Meanwhile, cook pasta in salted water until done. Reserve ½ cup cooking water. Drain pasta and add to skillet. Toss with sauce over low heat until fully mixed. Add some cooking water if sauce needs loosening.
Divide among plates and top with fresh ground pepper and grated Parmesan, if you like.