This easy recipe for mussels in blue cheese sauce is packed with all kinds of flavor, and ready in a snap! The perfect seafood supper.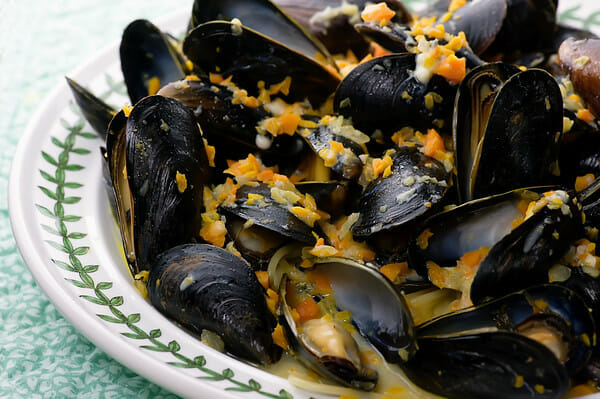 Mmmmmmussels.
This may be my favorite "make it fast" dinner ever. Or at least in the top five, but that is because I love, love, love, love mussels. LOVE THEM. They are so easy to make and they are so dang delicious.
The standard mussel recipe is to steam them in a little white wine and parsley and serve them up with some fresh bread to sop up the broth, and believe me, I'm not knocking that approach, it's a classic. But this one takes it a step further without a whole lot more work, and it is just heaven on a plate. If mussels go to heaven, which I sincerely hope they do.
This easy recipe for mussels in blue cheese sauce is packed with all kinds of flavor! Click To TweetWe had this one last Friday night when the teenager (who, if you can believe it, does not LIKE mussels. I'm sure wherever she was, she had chicken fingers or pizza) was out with her posse of friends, and it was just me, the Southern husband and the hopeful dog.
It was the end of a long week, I had just slogged home in the rain…I looked at that bag of mussels and thought…yes! Mussels in blue cheese, which sits on just enough pasta to soak up the world's best sauce. If I do say so myself.
So if you are a mussel lover, here is the recipe you have been waiting for all your life. Blue cheese sauce forever!
Print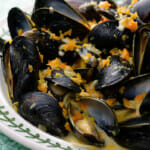 Mussels in Blue Cheese Sauce
---
Ingredients
1 two pound bag mussels
2 tablespoons butter
2 large carrots, chopped
1 large onion, chopped
1 cup white wine
4 ounces crumbled blue cheese
4 ounces thin spaghetti (or whatever pasta you like), cooked and drained
---
Instructions
Rinse mussels, discarding any with open or broken shells and pulling off any of the beards (strings coming out of the mussels
Melt butter in large pan and saute carrots and onions for 5 minutes over medium high heat
Add mussels and white wine and cover until mussels are open, about 5 minutes
Remove mussels with slotted spoon into bowl and set aside.
Add blue cheese to pan and stir until melted.
Divide pasta among plates (use plates with a bit of a lip to them so that you don't have spillage issues!)
Top pasta with mussels, and then pour sauce over all. It is going to look like a LOT, but trust me, it's the right amount. Those shells take up a lot of room. Make sure you have a bowl on the table so that folks can toss the empty shells into it as they go.