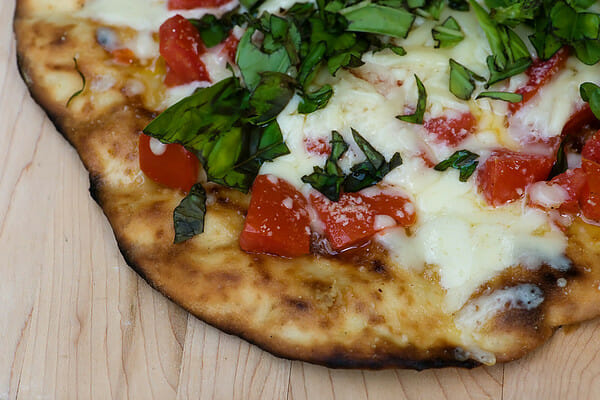 2 tablespoons olive oil
1 cup water (8 ounces), room temperature
2 cups bread flour (11 ounces), plus more for work surface
2 teaspoons sugar
1 teaspoon salt
1 teaspoon instant yeast
5-6 large tomatoes, chopped
¾ teaspoon salt
6 ounces fontina cheese, shredded (about 2 cups)
1½ ounces Parmesan cheese , finely grated (about ¾ cup)
1 recipe Spicy Garlic Oil (see recipe below)
½ cup chopped fresh basil
Salt
Combine oil and water in liquid measuring cup. In food processor fitted with plastic dough blade or metal blade, process bread flour, sugar, salt, and yeast until combined, about 5 seconds. With machine running, slowly add liquid through feed tube; continue to process until dough forms tacky, elastic ball that clears sides of workbowl, about 1½ minutes. If dough ball does not form, add more flour 1 tablespoon at a time and process until dough ball forms. Spray medium bowl lightly with nonstick cooking spray or rub lightly with oil. Transfer dough to bowl and press down to flatten surface; cover tightly with plastic wrap and set in draft-free spot until doubled in volume, 1½ to 2 hours.
When dough has doubled, press down gently to deflate; turn dough out onto work surface and divide into 4 equal-sized pieces. With cupped palm, form each piece into smooth, tight ball. Set dough balls on well-floured work surface. Press dough rounds with hand to flatten; cover loosely with plastic wrap and let rest about 15 minutes.
Meanwhile, toss tomatoes and table salt in medium bowl; transfer to colander and drain 30 minutes (wipe out and reserve bowl). Shake colander to drain off excess liquid; transfer tomatoes to now-empty bowl and set aside. Combine cheeses in second medium bowl and set aside.
Gently stretch dough rounds into disks about ½ inch thick and 5 to 6 inches in diameter. Working one piece at a time and keeping the rest covered, roll out each disk to ⅛-inch thickness, 9 to 10 inches in diameter, on well-floured sheet of parchment or wax paper, dusting with additional flour as needed to prevent sticking. (If dough shrinks when rolled out, cover with plastic wrap and let rest until relaxed, 10 to 15 minutes.) Dust surface of rolled dough with flour and set aside. Repeat with remaining dough, stacking sheets of rolled dough on top of each other (with parchment in between) and covering stack with plastic wrap; set aside until grill is ready.
Carefully slide dough round onto hot side of grill. Immediately repeat with another dough round. Cook (with grill lid down) until tops are covered with bubbles (pierce larger bubbles with paring knife) and bottoms are grill marked and charred in spots, 2 to 3 minutes; while rounds cook, check undersides and slide to cool area of grill if browning too quickly. Transfer crusts to cutting board browned sides up. Repeat with 2 remaining dough rounds.
Brush 2 crusts generously with Spicy Garlic Oil; top each evenly with one-quarter of cheese mixture and one-quarter of tomatoes. Return pizzas to grill and cover grill with lid; cook until bottoms are well browned and cheese is melted, 3 to 5 minutes, checking bottoms frequently to prevent burning. Transfer pizzas to cutting board; repeat with remaining 2 crusts. Sprinkle pizzas with basil and coarse salt to taste; cut into wedges and serve immediately.
4 medium garlic cloves, minced or pressed (4 tsp)
½ tsp red pepper flakes
⅓ cup olive oil
Cook all ingredients in small saucepan over medium heat, stirring occasionally, until garlic begins to sizzle, 2-3 minutes. Transfer to small bowl.
GRILLED PIZZA, adapted from Cook's Illustrated [3]
Still Hungry?
Bacon Rosemary Pizza [4], from Framed Cooks
How To Grill Pizza, [5] from The Kitchn
Apple Bacon Pizza [6], from Framed Cooks