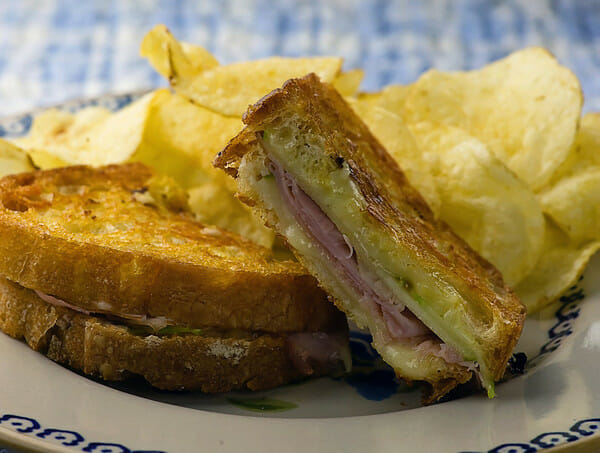 Yes, I am still working my way through my post-vacation "cook every great thing I had to eat while in Vermont" syndrome. I think this might be the end of it, but it is a delicious and easy one. I should begin by saying I am a big fan of The Grilled Cheese Sandwich. If a grilled cheese sandwich ever runs for public office, I will vote for it. They are crunchy and creamy and comforting and classic. So whenever I see an unusual one on the menu, I just can't resist. So when we were at the Little Rooster Cafe in Manchester, Vt, they had a grilled cheese sandwich on the menu that was named the Ethan Allen. I'm not sure why, unless he was also a big fan of grilled cheese, but whatever. It featured Vermont cheddar grilled with a thick layer of thin-sliced ham and slices of Granny Smith apple. Mouth-watering, right? It had my name on it, so I ordered it. Okay, it had Ethan Allen's name on it, but I still ordered it. And when it came it was a wonderful mix of the sweet apple with the savory cheese and ham. The only thing I changed when I made my version above was to cut down on the amount of ham — I used just a few slices, so as to have an equal balance of the three flavors.
So this concludes my retrospective of Meals I Ate On My Vermont Vacation. We now return you to our regularly scheduled programming.
ETHAN ALLEN SANDWICHES

Ethan Allen Sandwiches

Ingredients
Two slices country bread (I used ciabiatta bread)
¼ cup shredded Vermont cheddar
2-4 slices thin-sliced ham (or more, if you want)
3 thin slices Granny Smith apple
Butter
Instructions
Preheat griddle or skillet over medium heat
Butter one side of bread
With butter side down, layer one half of cheese, then all the ham, then all the apple, then the remaining cheese on bread slice. Place second slice of bread butter side up over all.
Place sandwich on griddle and toast over medium heat until golden brown, pressing down firmly with spatula several times.
Flip sandwich over carefully and toast on second side until golden.
Slice sandwich in half and serve immediately.