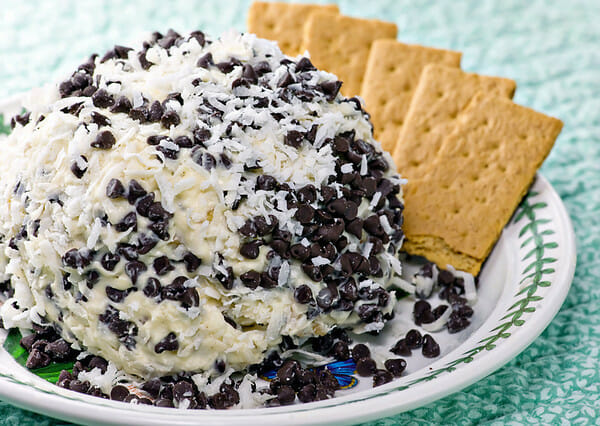 Yes, you read that right.
I know, you are used to the savory cheese balls, the ones made out of cheddar cheese, probably rolled in nuts, served with crackers before dinner, etc. etc. etc. Me too. But then my extraordinary assistant (did I mention I have a day job and I actually DO come out of the kitchen from time to time?) told me about this chocolate chip cheese ball that she was making for a party. I have to admit, I was a skeptic. But the list of ingredients reminded me a whole lot of chocolate chip cheesecake…only in cheese ball form. And I couldn't resist.
And you know what? It. Was. Amazing. Whenever the dog and the adventurous Southern husband are both highly interested in licking the mixing bowl, I am pretty sure I have a bonafide hit on my hands. This cheese ball is definitely an after-dinner event, unless you are more of a risk-taker than I am when it comes to appetizers. It is sweet, sweet, sweet, and very rich. I served it up at our Labor Day weekend lake house fest with a selection of graham crackers, gingersnaps and pretzels to spread the cheese on. The pretzels seemed to be the favorite accessory, probably because there are few things in this world that are better than sweet-and-salty.
Once you have the basic cheese/butter/sugar base for this, you can pretty much customize it to your hearts content. I rolled mine in coconut in addition to the mini chocolate chips, and used chopped walnuts instead of pecans. But go crazy and improvise! We only go around once, right?
Chocolate Chip Cheese Ball
Chocolate Chip Cheese Ball
Yield: 8-12 servings Prep time: 15 minutes Refrigerate: 2 hours
Ingredients
1 (8oz) package cream cheese, softened
¾ cup confectioners' sugar
½ cup butter, softened
2 Tbsp brown sugar
1 Tbsp vanilla extract
¾ cup miniature chocolate morsels
¾ cup finely chopped pecans, divided
Graham crackers, butter cookies or pretzels
Instructions
In a bowl, combine cream cheese, confectioners' sugar, butter, brown sugar and vanilla, beating with an electric mixer until smooth. Stir in chocolate chips and ½ cup of pecans. Refrigerate until firm, about 2 hours. (I was in a hurry and found 1 hour in the freezer was just as good.)
Once chilled, shape mixture into a ball and roll in remaining ¼ cup pecans. Refrigerate until ready to serve.
Serve with graham crackers, butter cookies or pretzels.