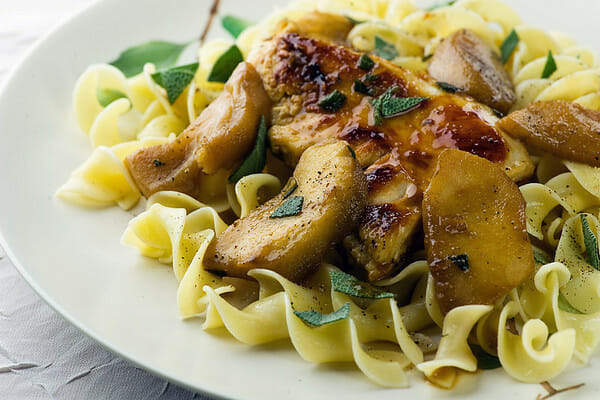 4 chicken breasts, pounded to a thickness of about ½ inch
2 apples, cored, peeled and sliced
1 tablespoon olive oil
2 tablespoons butter
1 shallot, diced
1 tablespoon brown sugar
1 cup chicken broth
1 tablespoon cider vinegar
¼ cup freshly chopped sage
Cooked buttered egg noodles
1. Heat olive oil in large skillet over medium high heat and brown chicken breasts on both sides, approximately four minutes per side. Set aside.
2. Add butter to skillet and heat until melted. Add apples, shallot and brown sugar and cook for three minutes, stirring occasionally.
3. Add chicken broth, vinegar and sage and cook until sauce reduces slightly, about 2 minutes.
4. Return chicken pan with any accumulated juices and cook until chicken is heated through and sauce is slightly more reduced, about 2-5 minutes.
5. Serve chicken and apples over buttered noodles with pan sauce poured on top.