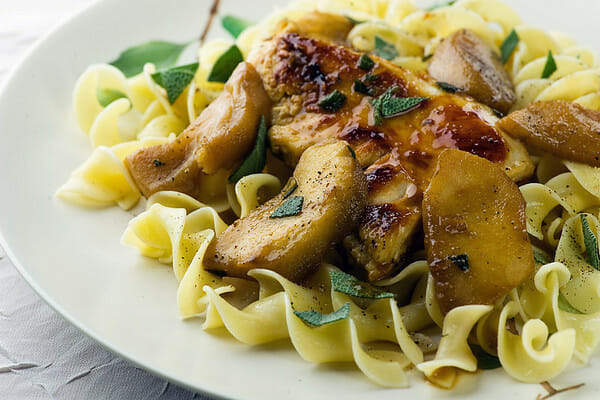 Summer is slowly fading away, the evenings are getting brisk, and that always makes me think of apples and pumpkins and butternut squash…mmmmmm. Autumn comfort food, it's the best. This snazzy little recipe is another one adapted from Mark Bittman's newest book, KITCHEN EXPRESS. Which I am developing a love-hate relationship with, because as I mentioned in an earlier post, it is not a collection of recipes, but more a description of quick dishes that can be assembled in 20 minutes or less. Sometimes he gives instructions on the ingredient proportions. Sometimes not.
To which I say: AAARRRGGGHHH!
Okay, I feel better now. I forgive you, Mark, because the ideas for these quick meals are so wonderful and creative. So as a service to all humankind, I am trying out my favorites and creating the Actual Recipes that go with them. This one is a sauteed chicken with an apple and sage sauce created from chicken broth, butter and a little brown sugar, served on a bed of buttered noodles. Truly ready in less than 20 minutes, and delish.
CHICKEN WITH APPLES AND SAGE
Adapted from KITCHEN EXPRESS by Mark Bittman
Chicken with Apples and Sage
Ingredients
4 chicken breasts, pounded to a thickness of about ½ inch
2 apples, cored, peeled and sliced
1 tablespoon olive oil
2 tablespoons butter
1 shallot, diced
1 tablespoon brown sugar
1 cup chicken broth
1 tablespoon cider vinegar
¼ cup freshly chopped sage
Cooked buttered egg noodles
Instructions
Heat olive oil in large skillet over medium high heat and brown chicken breasts on both sides, approximately four minutes per side. Set aside.
Add butter to skillet and heat until melted. Add apples, shallot and brown sugar and cook for three minutes, stirring occasionally.
Add chicken broth, vinegar and sage and cook until sauce reduces slightly, about 2 minutes.
Return chicken pan with any accumulated juices and cook until chicken is heated through and sauce is slightly more reduced, about 2-5 minutes.
Serve chicken and apples over buttered noodles with pan sauce poured on top.