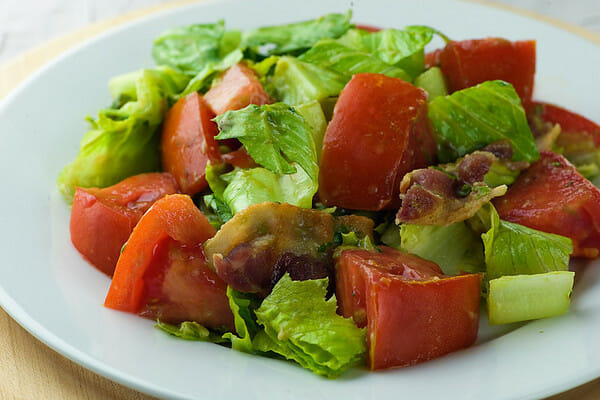 I should start by saying that the major item that I have in common with the dog is a deep and abiding love for bacon. I totally feel her pain when I am cooking up a skillet of bacon and then don't turn around and put it in her dish. She always looks like she can't quite believe I'm not making it all for her. In my next life I think I will invent a completely bacon-flavored kibble and make a million bucks.
In the meantime, I always pause on any recipe that has bacon in the title. And of course, if the title also has the word "salad" in it, I feel like it is a healthy bacon recipe. This is my own little fantasy world that I have created, so please don't try and talk sense into me. So when I saw BLT Salad as an entry in Mark Bittman's new book KITCHEN EXPRESS, it was only a matter of time…a very short amount of time…before it ended up on our plates. As with all dishes in this book, there is no actual recipe, so I put together my own. It's a nifty little salad with a scrumptious avocado dressing, and since the book doesn't tell you specific amounts for all the ingredients, MY version goes a little heavy on the you-know-what.
This is probably a good time to tell you that I gave the romantic Southern husband chocolate bacon truffles for Valentine's Day last year, and oh, my my. Take a look:

Bacon and Chocolate
But if you want to stick with bacon health food, try this salad.
BLT SALAD, adapted from Kitchen Express
BLT Salad
Ingredients
4 slices thick bacon, cooked until crisp and cut into bite size pieces
1 avocado
¼ cup fresh basil leaves
1 clove garlic
1 lime
¼ cup olive oil
Salt and pepper
1 head romaine lettuce
2 ripe tomatoes
Instructions
Puree avocado, basil and garlic in food processor until smooth. Juice the lime and add to the avocado mixture.
With the processor running, slowly pour in the olive oil until blended in. Season dressing to taste with salt and pepper.
Tear up lettuce and add to salad bowl. Chop tomatoes and add to bowl along with chopped bacon.
Add dressing and toss. I like to add the dressing gradually and taste as I go along to make sure the salad is not "over-dressed."