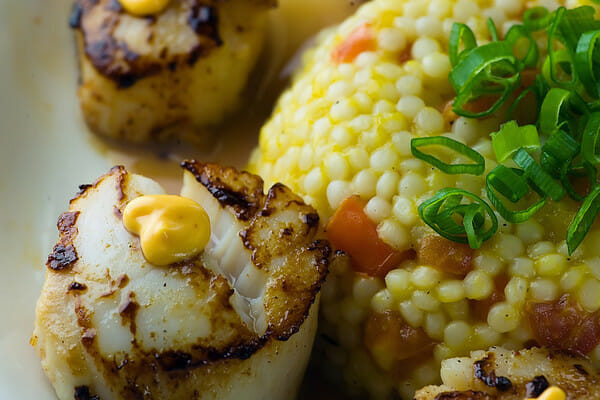 As you may know, I live out in the wilds of northern New Jersey. I love our little town for so many reasons, and one of the main things I love about it is that we have a rocking great library. In addition to doing all the things you would expect from a library (books, movies, CDs, book clubs, etc) they also have so many events it would make your head spin. Yoga classes? Got it. Meet the Author events? Got it. Classes on How to Understand What Your Dog is Saying? I missed this particular one, but I am pretty sure it is "Feed me more bacon!! Right now!!"
Anyway, they are now hosting what is officially my favorite library event of all time: their "Meet the Chef" series. At these events they bring in a chef from one of the area's great restaurants, and the chef cooks a meal in front of our very eyes and then answers all our questions. And then…here is the beauty part…we get to EAT what the chef has just cooked.
This week was the kick-off event with Executive Chef Chris Calcagno from Restaurant L in Allendale, New Jersey. And lucky girl that I am, the library asked me if I would be willing to photograph both Chef Calcagno and the event.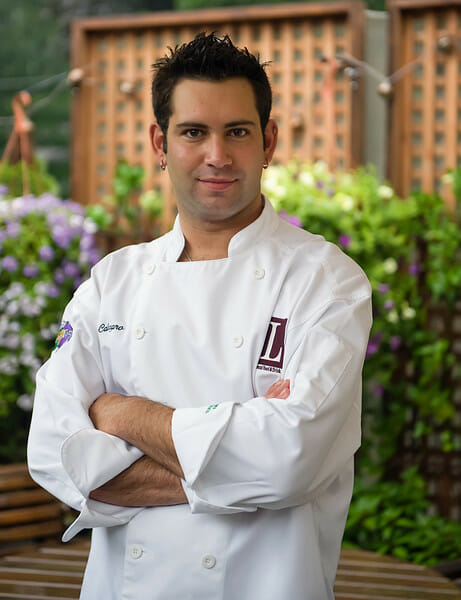 Why yes, I think I could do that. Hi there, Chef Calcagno.
The night of the event, 70 lucky people crowded into the library meeting room to see Chef C (do you mind if I call you Chef C?) work his magic with some scallops. He was calm, cool, collected and EXTREMELY organized. Here is his line-up of ingredients, which is pretty much how my own kitchen counter looks before I start cooking. Not.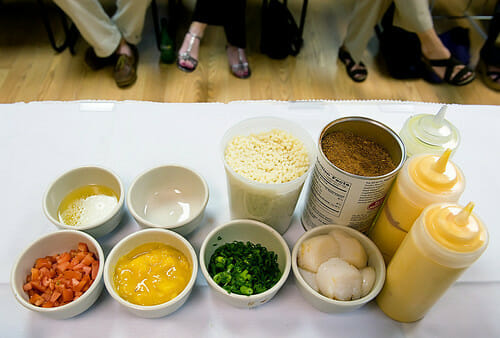 He started by making the couscous. It was the large Israeli couscous variety, which he was making with mango and chopped tomato.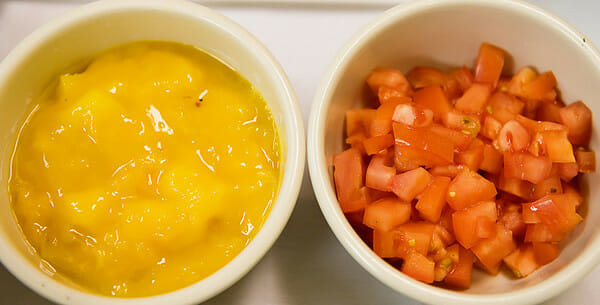 He put the pre-cooked couscous (I love that word) into a frying pan and ladled the mango and tomato on top, and tossed it all with butter. Because even I know that everything is better with butter.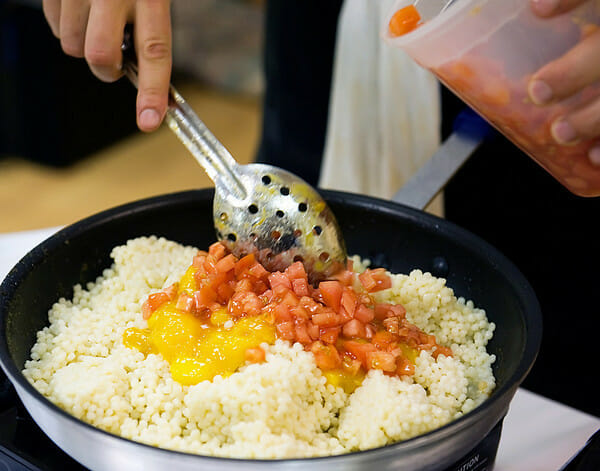 He was very seriously concentrating as he worked, despite the fact that 70 people were drooling right in front of him.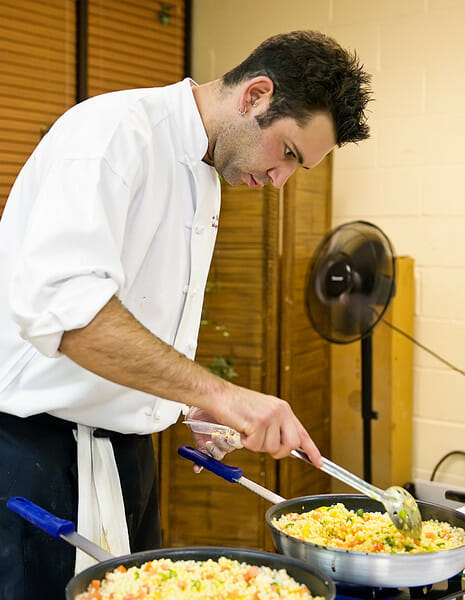 I was extremely gratified to see that he stopped to taste things as he went along. I just knewthat was the right thing to do. I tasted the peanut butter fudge cookies I made last weekend about 25 times as I went along, purely in the name of science. We chefs must do things like that.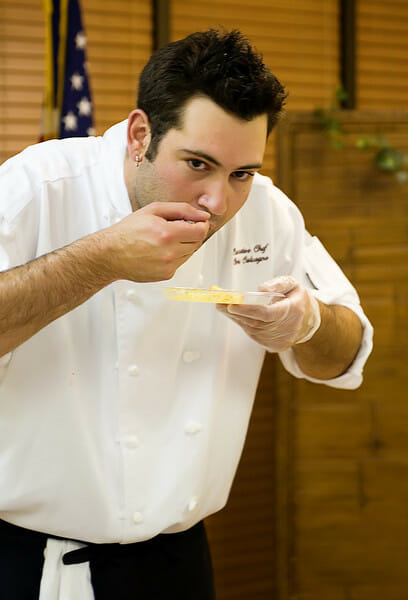 Next came the scallops. He used those gigantic ones, and man did they look good.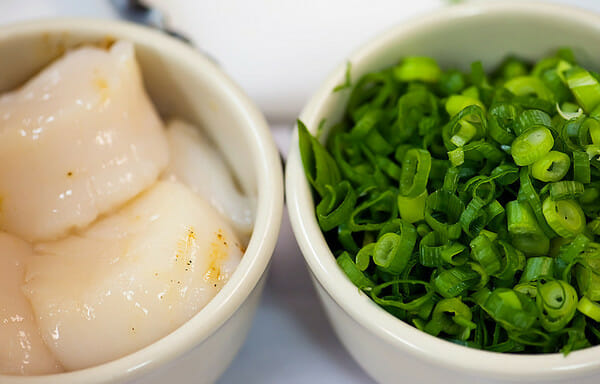 He covered them with blackening spices (Paul Prudomme's variety)….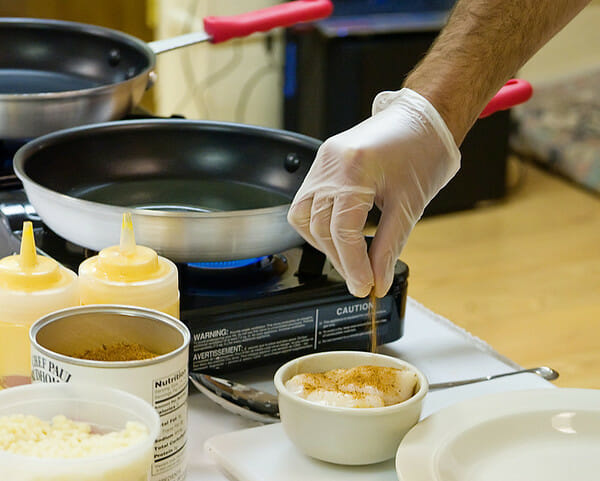 And then seared them in a little olive oil. And by the way, he made 140 of them, right before my eyes, like it was nothing. 140. I am humbled.
Yep, looks pretty good to me.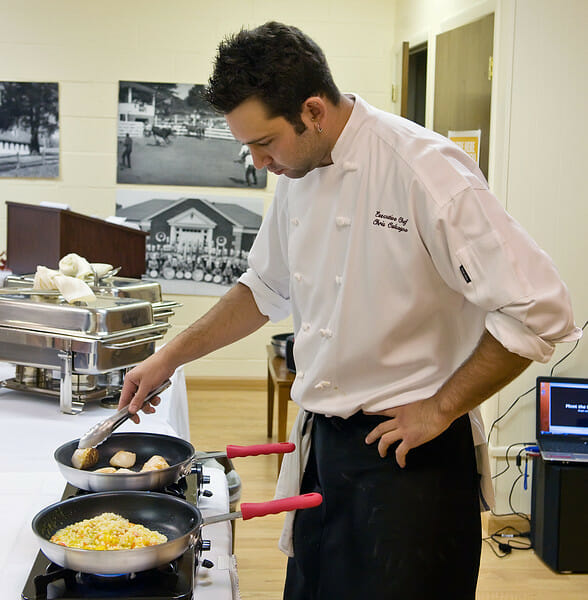 Then came the dramatic part. The Plating of the Food. I love this part.
First he packed the couscous into a small bowl and inverted it onto a dinner plate. When he lifted off the bowl, it held together perfectly into a beautiful little round shape of couscous wonderfulness.
Then he surrounded the couscous with the gorgeous blackened scallops…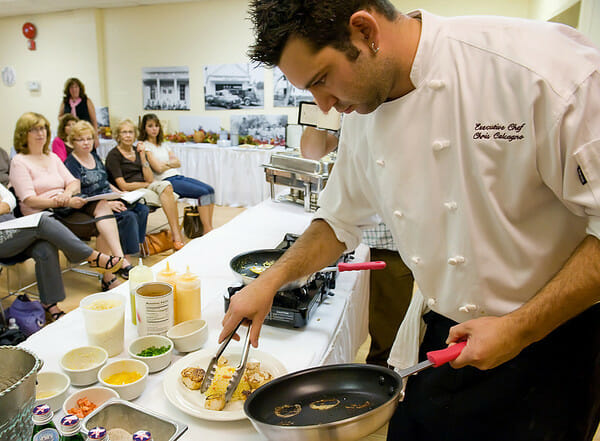 Then he put just a drop of chili aioli on the top of each scallop. I need to get me one of those squirt bottles.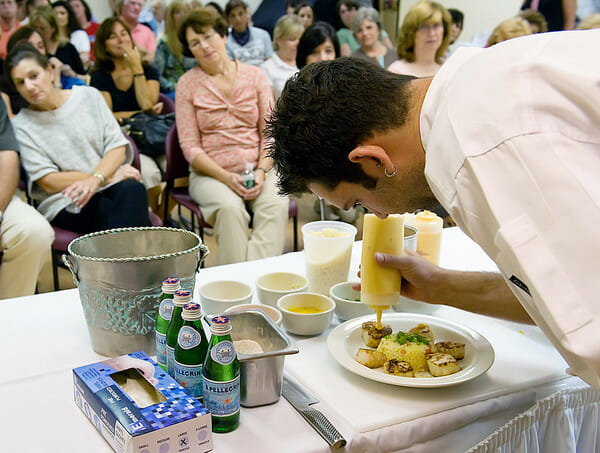 Oh my. Oh, my, my, my.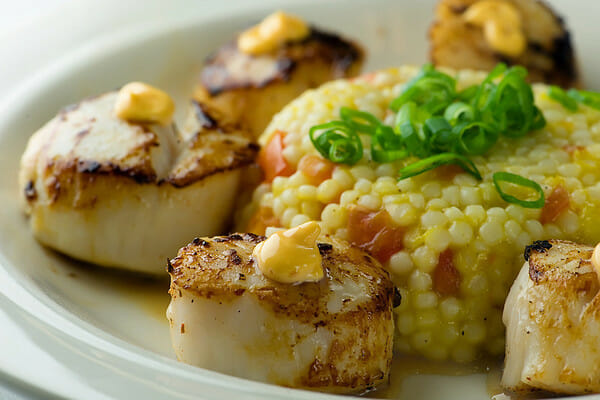 And to top it all off, he made little plates of the couscous and two scallops for each and every one of us.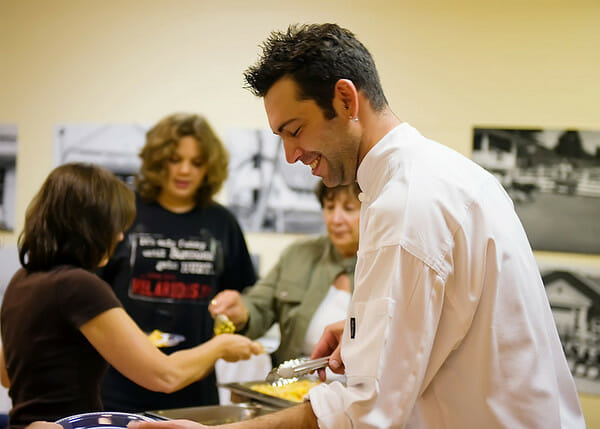 We were all, um, just a little happy. Because as good as it looks, it tasted even better. Not kidding.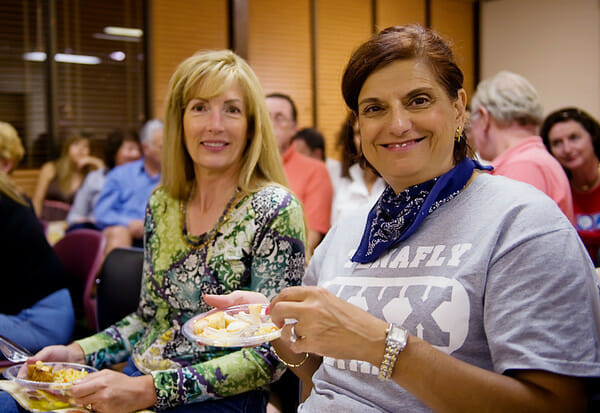 So if you are lucky enough to live in Upper Saddle River, New Jersey, and are a member of the best library in the world, check out their Meet the Chefs series at the website below:
The Upper Saddle River Library
And if you want to see a slideshow of this fun event, click here:
And if you want to try this fabulous recipe at home…here you go!
Blackened Scallops with Mango Tomato Couscous and Chili Aioli
Ingredients
2 garlic cloves, peeled and chopped
1 large egg yolk
2 teaspoons fresh lemon juice
1 tablespoon Chinese chili sauce
¼ cup extra virgin olive oil
3 tablespoons vegetable oil
Splash of red wine vinegar
20 large scallops, washed and cleaned
4 cups Israeli couscous
2 tomatoes, cut into ¼ inch cubes
2 fresh mangos, peeled and cut into ¼ inc cubes
Blackening spices (such as Paul Prudhomme)
Instructions
Prepare aioli by grinding garlic in food processor until fine. Add egg yolk and process until egg has tripled in volume. Combine oils and add slowly to garlic mixture and process until emulsified. Add lemon juice and chili sauce and process for 10 more seconds. Season to taste and set aside.
Boil 8 cups of water and add a pinch of salt. Add couscous and cook until al dente, and then drain. Place in saute pan with tomatoes and mango and saute for 3-5 minutes. Stir in 2 tablespoons of butter and set aside.
Heat a non-stick or cast iron skillet and add a small amount of olive oil when hot. Dust scallops with blackening seasoning and add to pan, searing for two minutes on each side.
To assemble, mound couscous in center of plate and surround with 5 scallops. Place a drop of aioli on each scallop and serve immediately.
Recipe courtesy of Chef Chris Calcagno