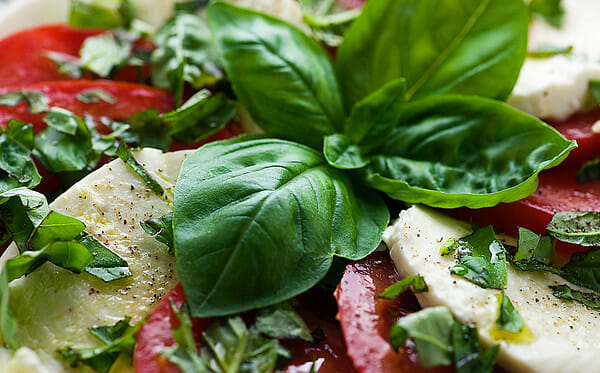 FINALLY, a day in New Jersey without rain. And so FINALLY, I was able to send the Grillmaster, aka my handsome Southern husband, outside with a platter of cheeseburgers and let him do the cooking. Every once in a while I do break down and make fries to go with the burgers, but mostly I try to pair them with something that involves a little more in the way of healthy veggies. And since I am racing to keep ahead of the tomatoes and the basil, it seemed like the perfect night for one of my favorites: the classic tomato salad layered with fresh mozzarella and sprinkled wth chopped fresh basil, some really nice olive oil and a little salt and pepper.
And that is essentially the recipe – just the way it looks in the picture. It is pretty much all about the freshest ingredients you can get — nice ripe Jersey tomatoes, fresh basil and a really great mozzarella. I got mine at Fairway, which makes it in the store at such a steady clip that this batch was actually still warm when I put it in my basket. Go for the salted version for this recipe (fresh mozz comes both salted and unsalted) – it gives it a nice little flavor in this salad. If you make the salad before you put the burgers on, it will give the flavors of the tomato and basil and cheese and olive oil the chance to mingle together. And if you have any extra of the cheese, it makes a great cheeseburger.
So that was the side dish tonight for the burgers at the Jacksons — for two of us, anyway. The teenager chose to have her burger with a banana on the side instead of this salad. We are not entirely sure what is the matter with her, but we will let you know when we find out. Sigh.