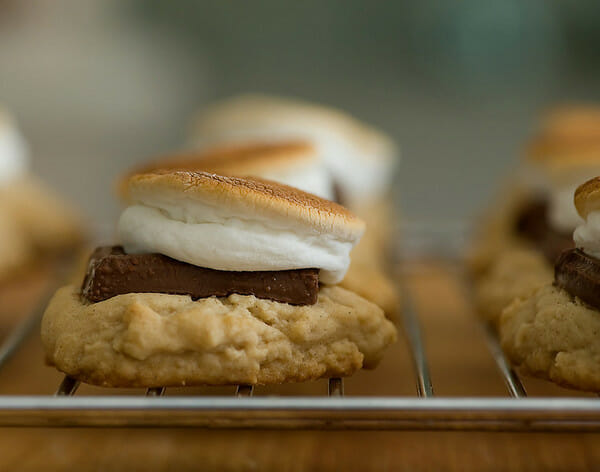 I am a bit of a fanatic when it comes to s'mores. I have tried s'mores ice cream, s'mores fondue and s'mores candy bars. The best "traditional" s'mores I have ever had were with our dear friends up at their Connecticut lake house — a real campfire at night, I think we used actual sticks to roast our marshmallows, and we laughed our heads off. I think it was the company that made my memory of the s'mores so amazing…but I'm sure the chocolate/marshmallows/graham crackers were pretty dang good too.
In any event, I was pretty hopped up about making these s'more cookies, although I have to say I was just a tiny bit skeptical about the whole thing hanging together. I had visions of melted chocolate all over the inside of my oven. But the lure of the s'more was too much for me to handle, so I gave it a go. The bottom cookie part is actually a dough made of the usual flour, sugar, butter, etc — and ground oatmeal with cinnamon. So it is a little sweet and crumbly, yum yum yum. The directions did say to put those squares of chocolate on top of the unbaked cookie dough and to bake them for 13 minutes. So fearing disaster, I did it. And phew, all was well. The chocolate (I used Hershey squares, natch) was soft but held its shape just fine.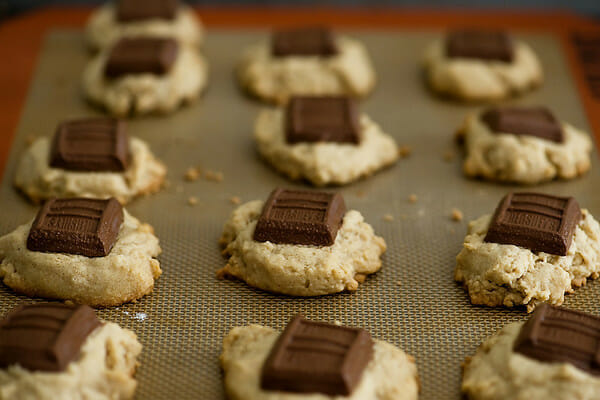 See? That is the tray after the baking, and those little chocolate squares are holding up bravely. Next you top each one with half a marshmallow and run them under the broiler for about 1 minutes. Keep a weather eye on them. One minute they are white as snow, and the next minute you are racing around like a crazy person trying to remember where you put the potholders.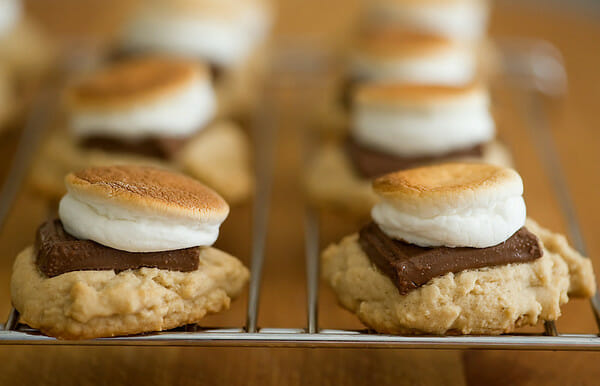 These little goodies are AWESOME about 5 minutes out of the oven, but they are also great once they have totally cooked. The marshmallow goes from runny and creamy to a little chewy — but the taste still makes you say, let's have s'more. And s'more. And s'more.
Ingredients
1/2 cup rolled oats
2 cups flour
3/4 teaspoon cinnamon
1/2 teaspoon baking soda
1/2 teaspoon salt
1 cup (2 sticks) butter, room temperature
3/4 cup light-brown sugar
1 large egg
8 ounces semisweet chocolate, cut into 30 squares
15 large marshmallows, halved horizontally
---
Instructions
Preheat oven to 350 degrees.
Process oats in a food processor until they are finely chopped. Add flour, cinnamon, baking soda, and salt and process again until combined.
Beat butter and sugar in a large bowl until light and fluffy. Beat in egg, turn mixer to low and beat in flour mixture just until combined.
Drop dough by tablespoons, 1 inch apart, onto two baking sheets. Top each with a chocolate square. Bake just until lightly golden, 11 to 13 minutes.
Remove sheets from oven and turn on the broiler. Top each cookie with a marshmallow half. Broil until marshmallows are lightly browned, 1 to 1 1/2 minutes (watch the trays closely!). Transfer cookies to wire racks to cool.