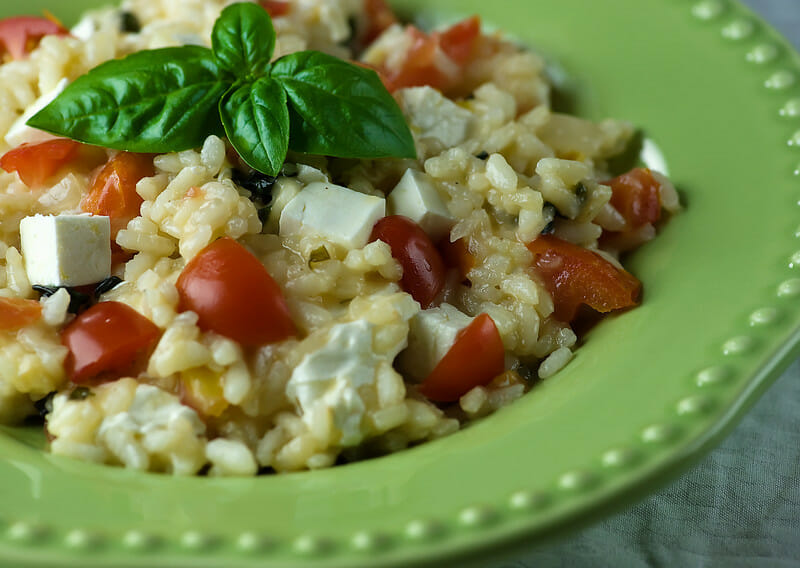 At this point I will do just about anything to keep up with the basil outside my door. There is only so much pesto that any one family can take. I give away huge bunches of basil to visitors…whether they want it or not. We used to have a guinea pig named Wilbur who loved the stuff. He is now in guinea pig heaven, but maybe we need another one? Or perhaps I can get the dog interested. She did eat a piece of the driveway once, so basil would be a big jump up for her.
Meantime, any of my summertime recipes that call for basil as a key ingredient are in heavy rotation now, including this nice little risotto. I love risotto — it is definitely a key member of the comfort food family, and I have a ton of variations on it, including a coconut shrimp version that is one of my all-time faves. This one not only calls for fresh basil, but also for fresh tomatoes (yes, got those in abundance too!) and best of all, fresh mozzarella, which Fairway always has a tower of, so newborn that it is still warm when I buy it. The great thing about risotto is that once you have the rice base (arborio rice slowly simmered in broth and wine) you can pretty much mix and match any combo of ingredients that catch your fancy. I am all about using up as much basil and tomatoes as possible these days, but this recipe would also be great using fresh chopped thyme with the tomatoes and a gruyere cheese, or chopped parsley with some goat cheese and shredded chicken — you get the idea. Mix and match! But because we ARE smack in middle of basil and tomato season, basil and tomatoes it is.
Now if I can just figure out a risotto that incorporates chocolate, I will be all set.
Risotto with Tomato, Basil and Mozzarella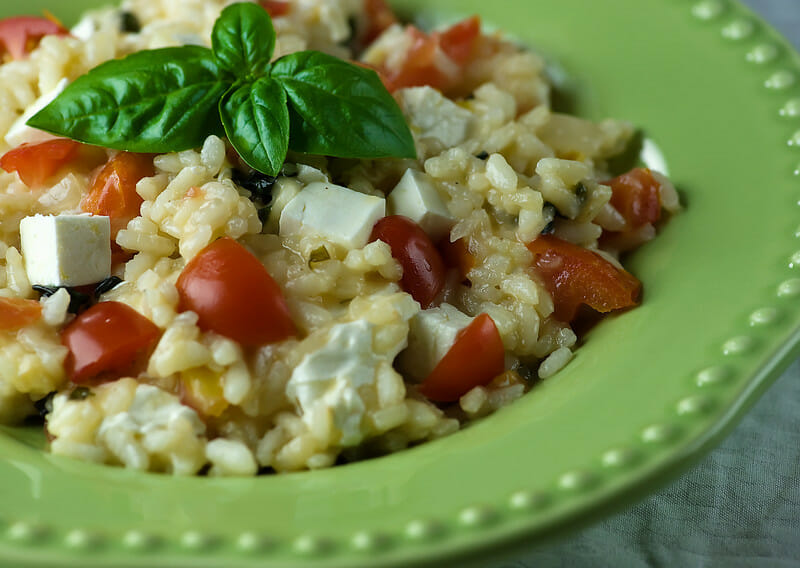 Ingredients

1½ cups diced tomatoes

1/2 cup chopped fresh basil

1 tablespoon olive oil

½ tsp. salt

1 clove garlic, minced

4 10½ oz. cans chicken broth

2 tsp. olive oil

½ cup finely chopped onion

1½ cups Arborio rice, uncooked

⅓ c. dry white wine

1 c. diced mozzarella cheese

½ tsp. ground pepper

2 tablespoons grated parmesan cheese

Directions

1. Combine first 5 ingredients; stir well, and set aside.

2. Bring broth to a simmer in a medium saucepan (do not boil). Keep warm over low heat.

3. Heat 2 tsp. oil in a large saucepan over medium-high heat. Add onion; saute 3 minutes. Add rice and wine; cook, stirring constantly, 1 minute or until liquid is nearly absorbed. Add warm broth, ½ c. at a time, stirring constantly until each addition is absorbed before adding the next (about 20 minutes total).

4. Add tomato mixture; cook, stirring constantly, 2 minutes.

5. Remove from heat, and stir in mozzarella and pepper. Sprinkle each serving with parmesan cheese.